Going Local in Belize for Women's Education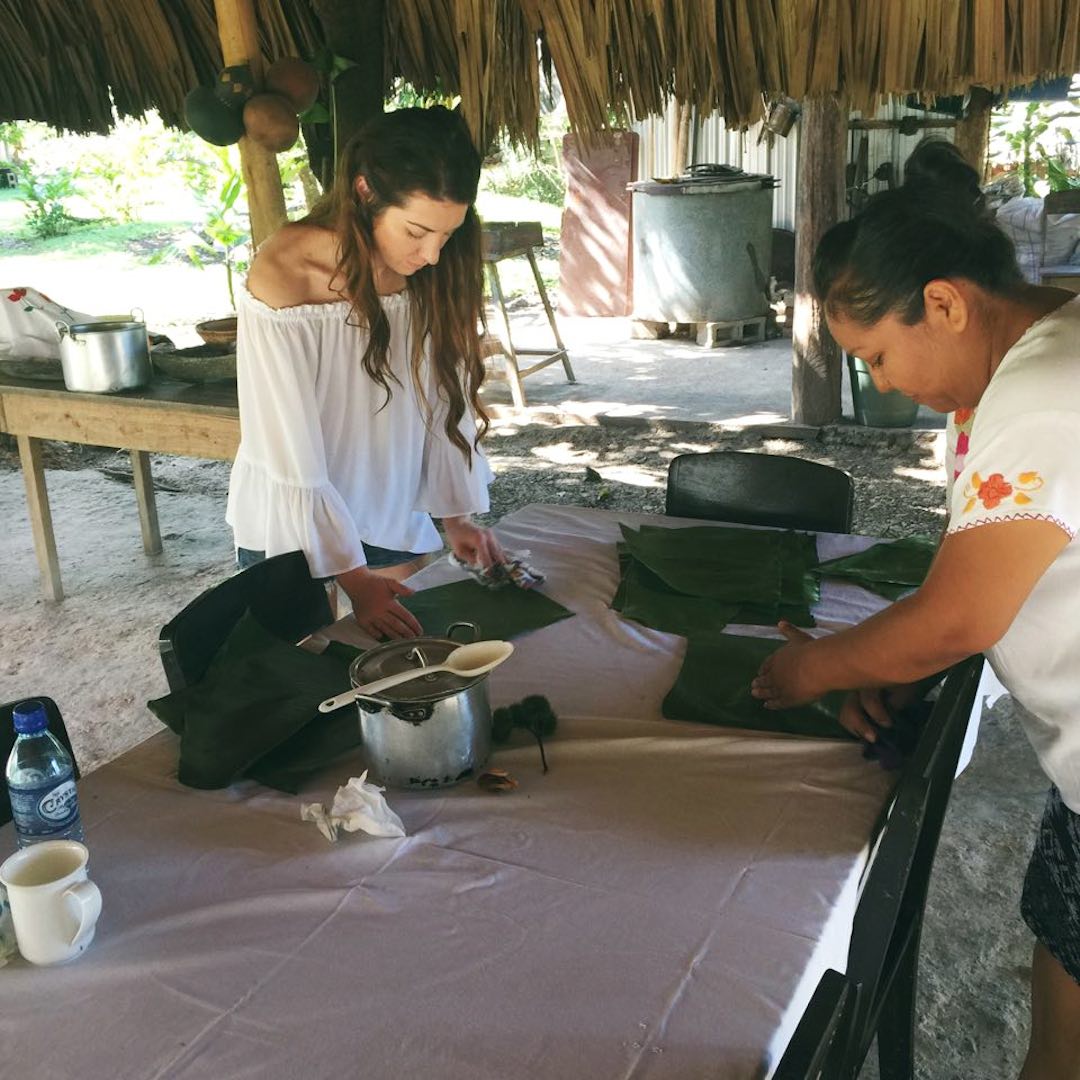 … I thought there is no way I would challenge her to a thumb wrestling competition.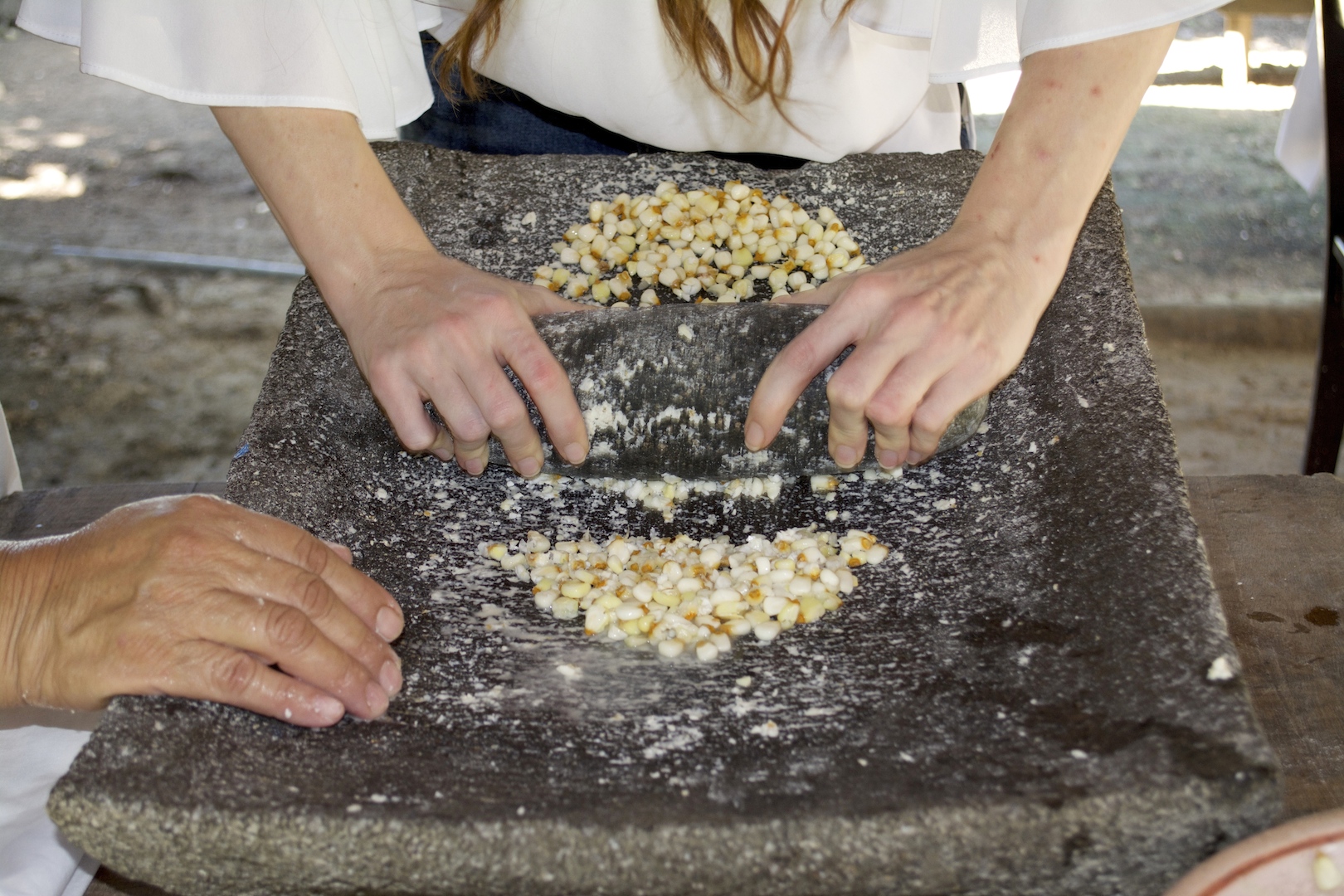 There are a few brave travelers out there that will locally couch surf, or happily accept an invite after meeting someone for a few minutes. I am not one of these people. As much as I would like to think of myself as an adventurous traveler, up for anything, that simply isn't the truth. But, more than anything I want to understand the local culture and if staying at someone's house isn't an option, the next best thing is to find local groups to involve yourself in, if only for a day.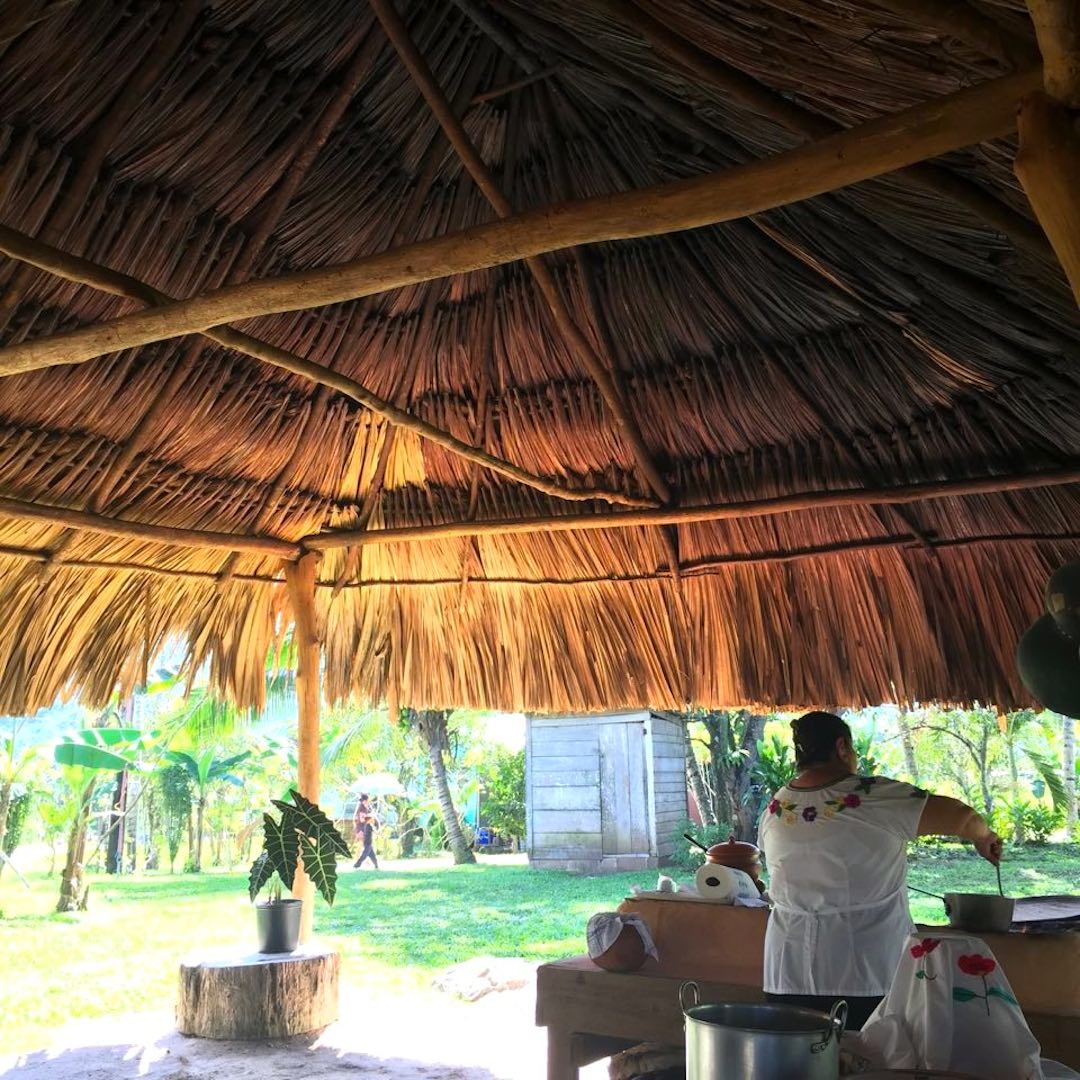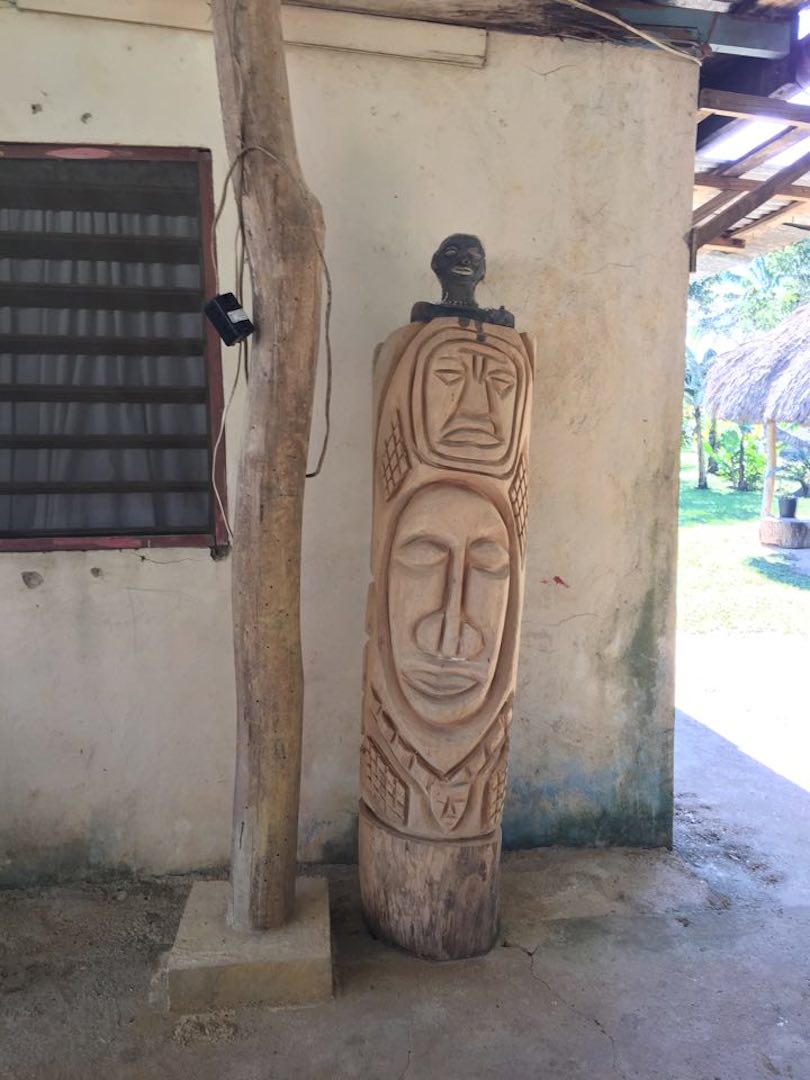 So that's exactly what I did in Belize at the San Antonio Women's Group. To back up a little bit, at the start of my trip I was looking for a place to understand the local weaving and embroidery that takes place in the country. Little did I know Ryan, from Blancaneaux Lodge who helped to arrange the visit, filled my day with much more and I am so very thankful he did.
Located about two hours from Belize City and thirty minutes from the Guatemalan border the small town of San Antonio is the quintessential Belizean town, home to local farmers, shop keepers, and lots of happy school children. It is also home to the San Antonio Women's Group which kindly opens its doors to travelers looking to better understand the rich Mayan history the town encapsulates. It is the town of three hills (or temples when translated to Mayan), which were once the location of important Mayan buildings, are now occupied by a police station, bakery, and Catholic Church. The town is still home to the Yucatec Maya many of which have embraced and still practice many of the same traditions their ancestors once did.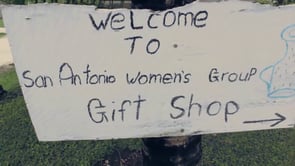 Just outside the center of San Antonio you can find a small sign for the Women's Group. It is located in a nondescript open air building that looks much like any other home in the area next to the Catholic school which provided a very pleasant insight into the days spelling lessons. We were kindly greeted by Timothea and Josefina, the two women who run the center. They told us about the area, the goals of the women's center, and then promptly put us to work making lunch.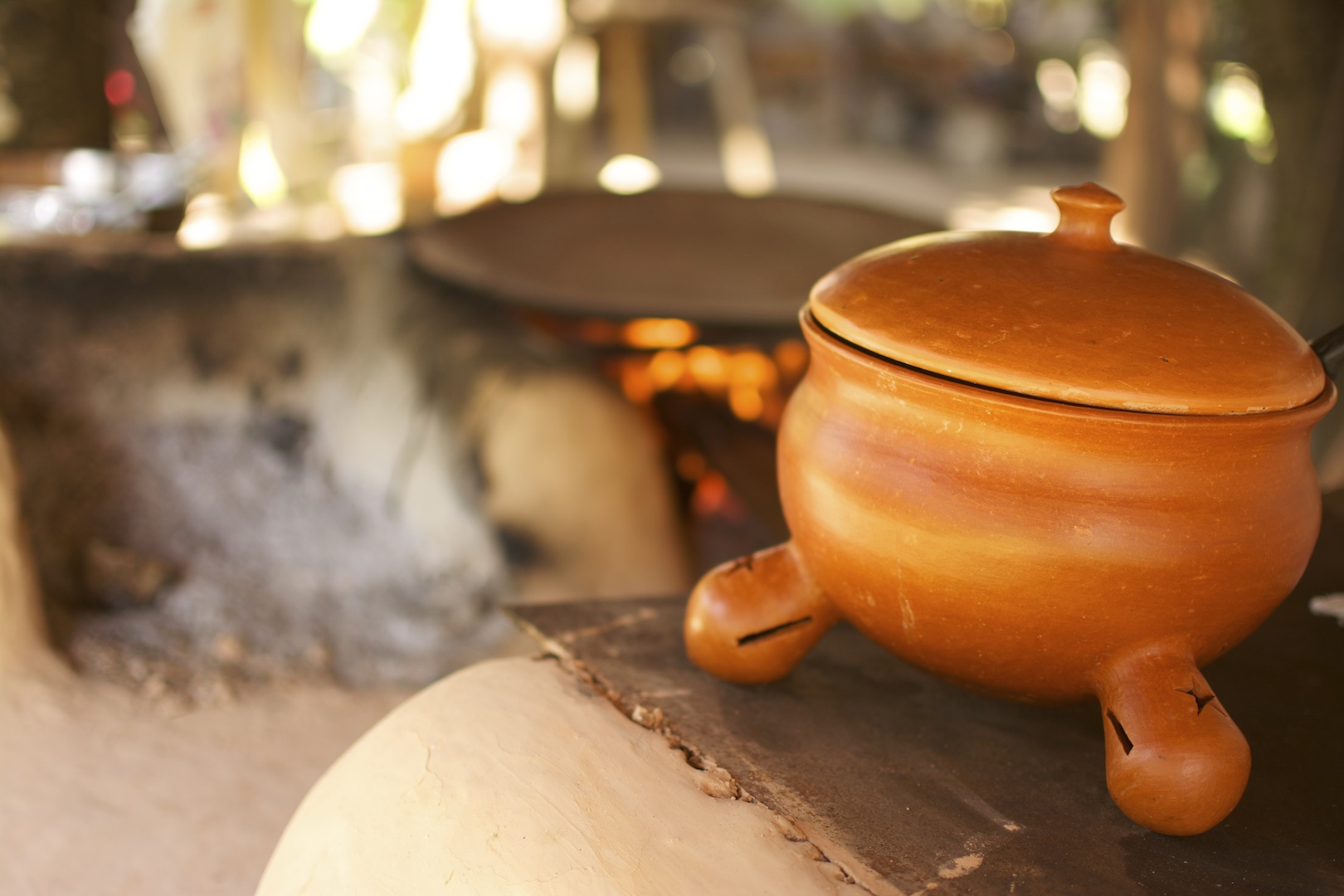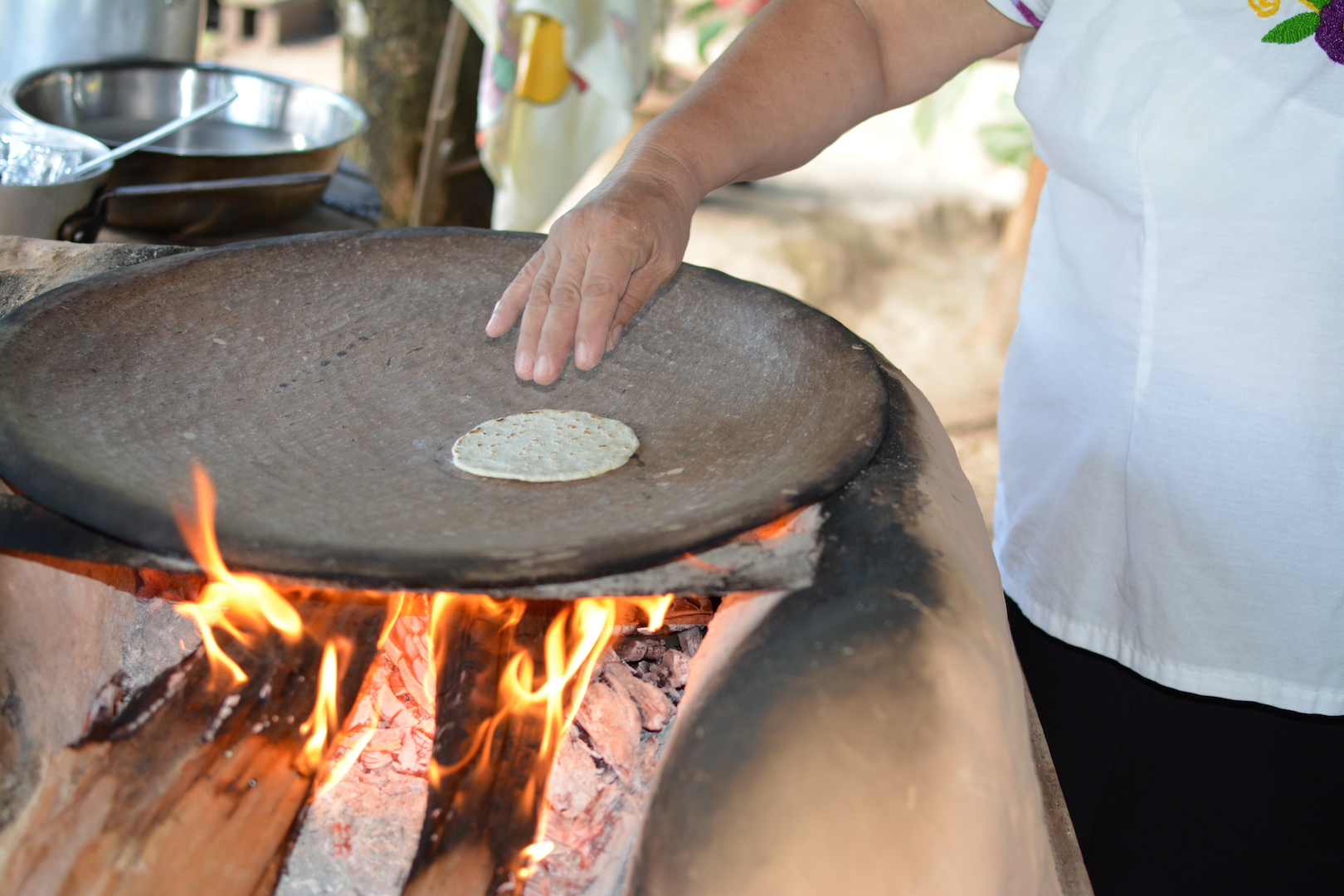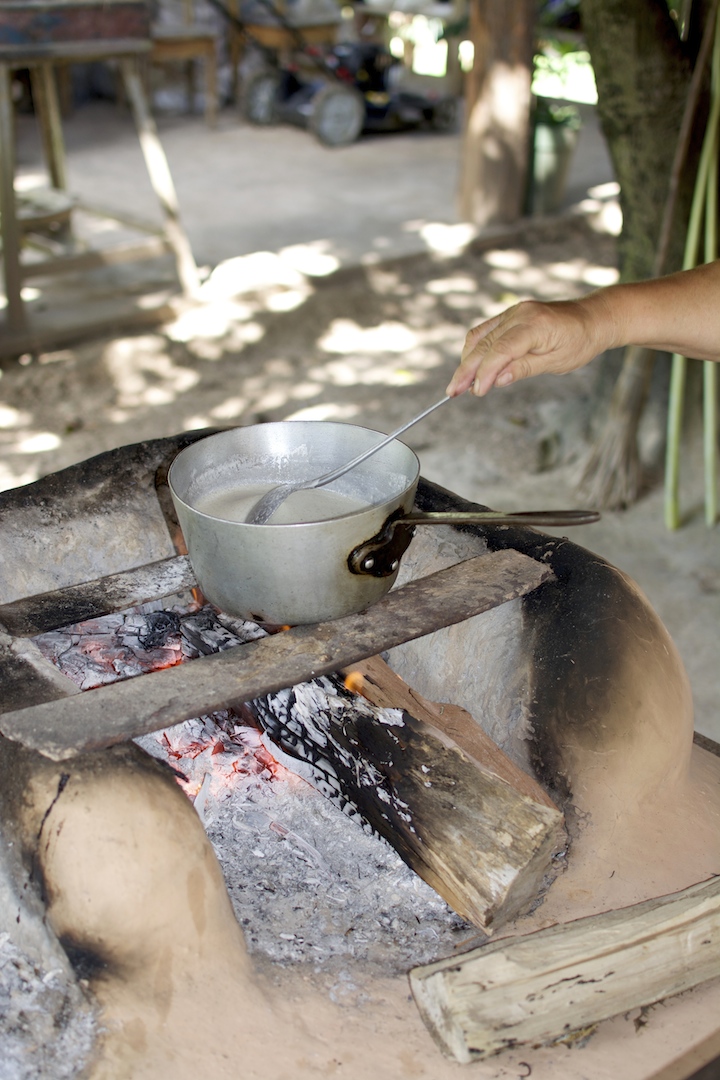 Now if making your own lunch while on vacation doesn't sound like fun, I understand your hesitation. But let me dispel you of that notion. Thousands of years of tradition, paired with organic fresh ingredients grown across the street, and topped with flavor combinations that would have any five star chef running to learn the techniques is not something you will find very often in life. I left there thinking that I would happily give up my day to grind corn if only it could taste like that and wondered where in our own history did we give up such simplicity that rendered such complex flavors. Still not convinced? They also have pottery making and embroidery if you want to learn those skills. I'll get to those a bit later.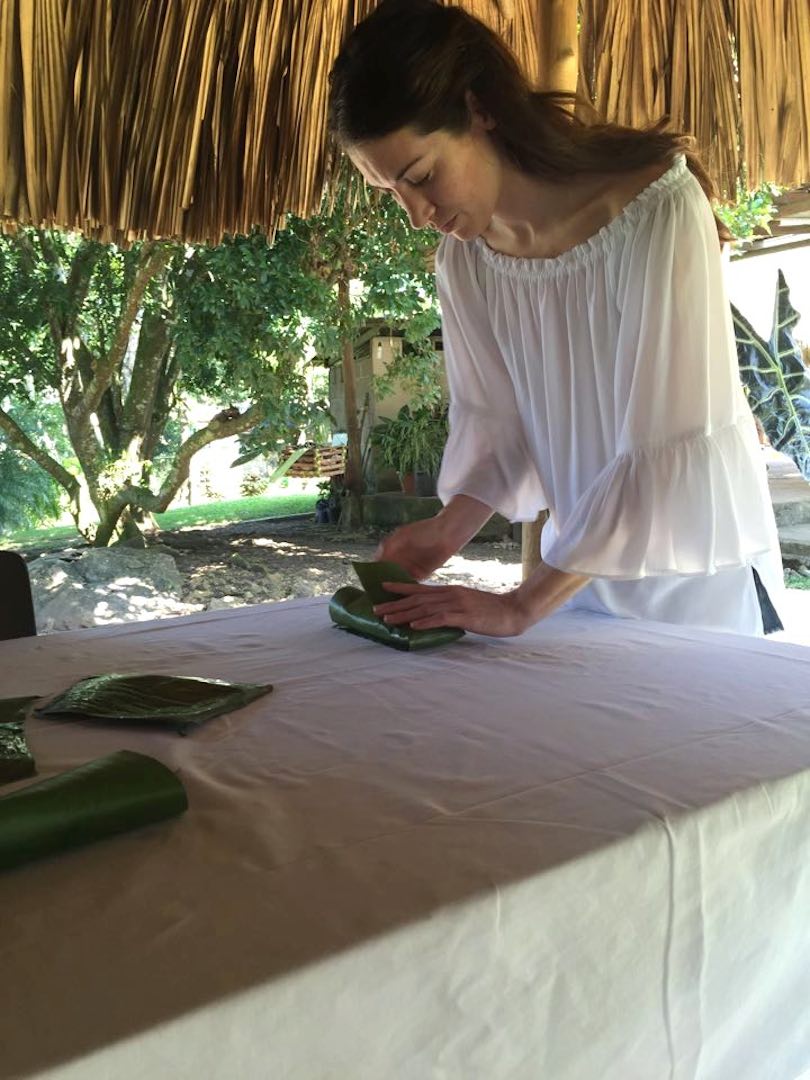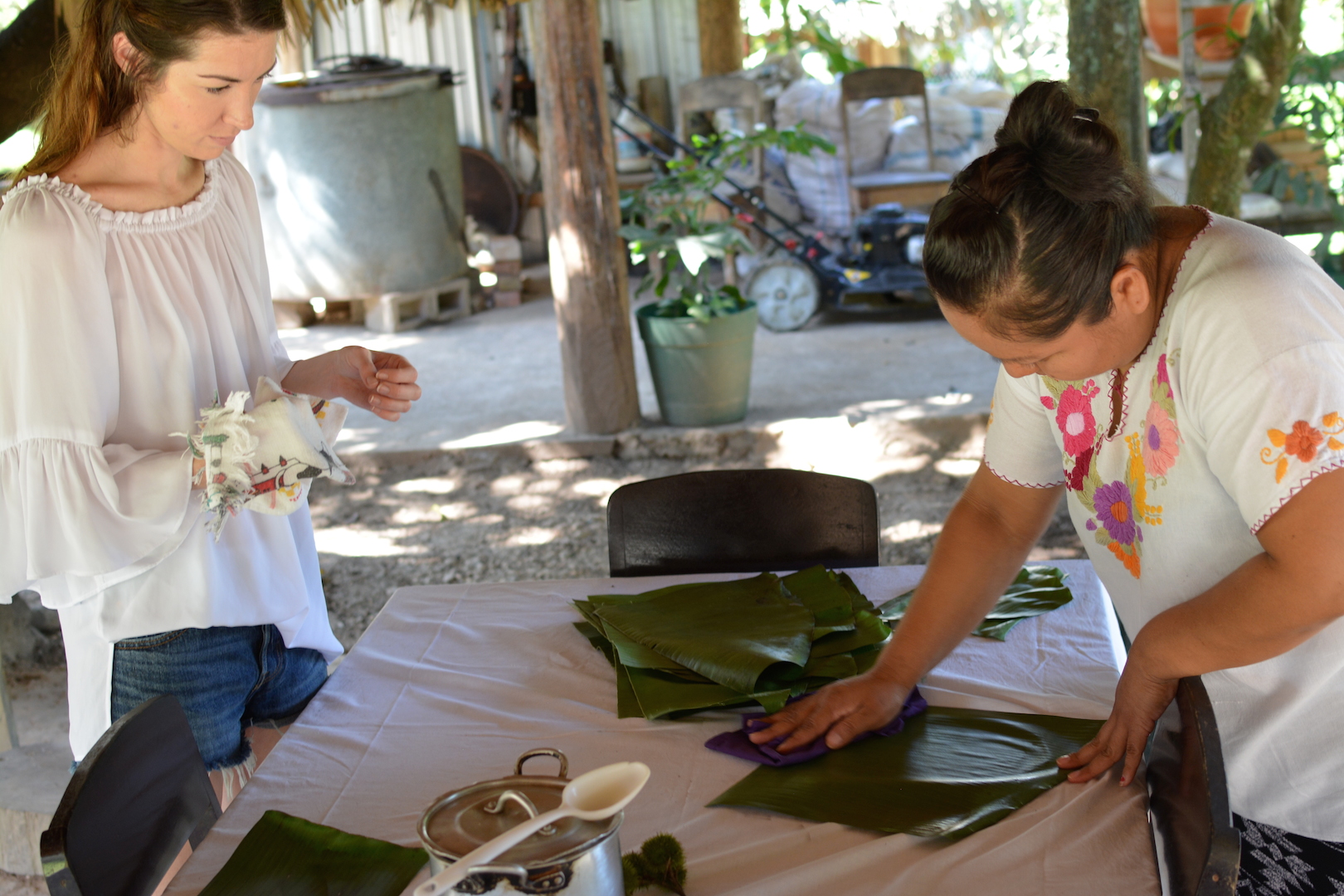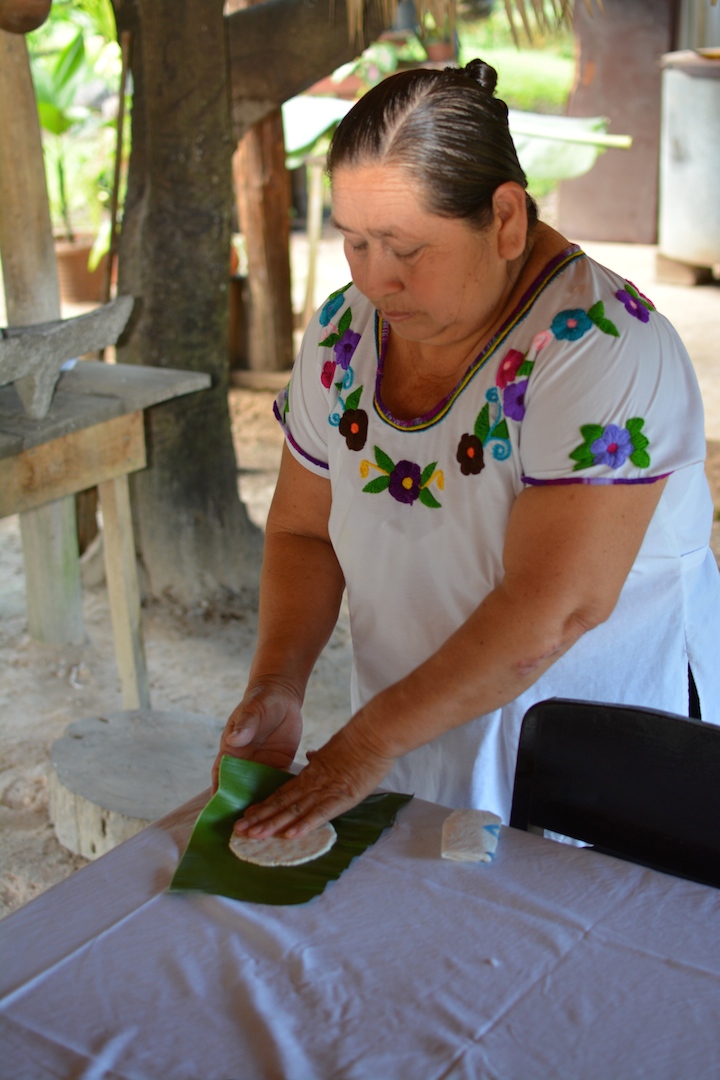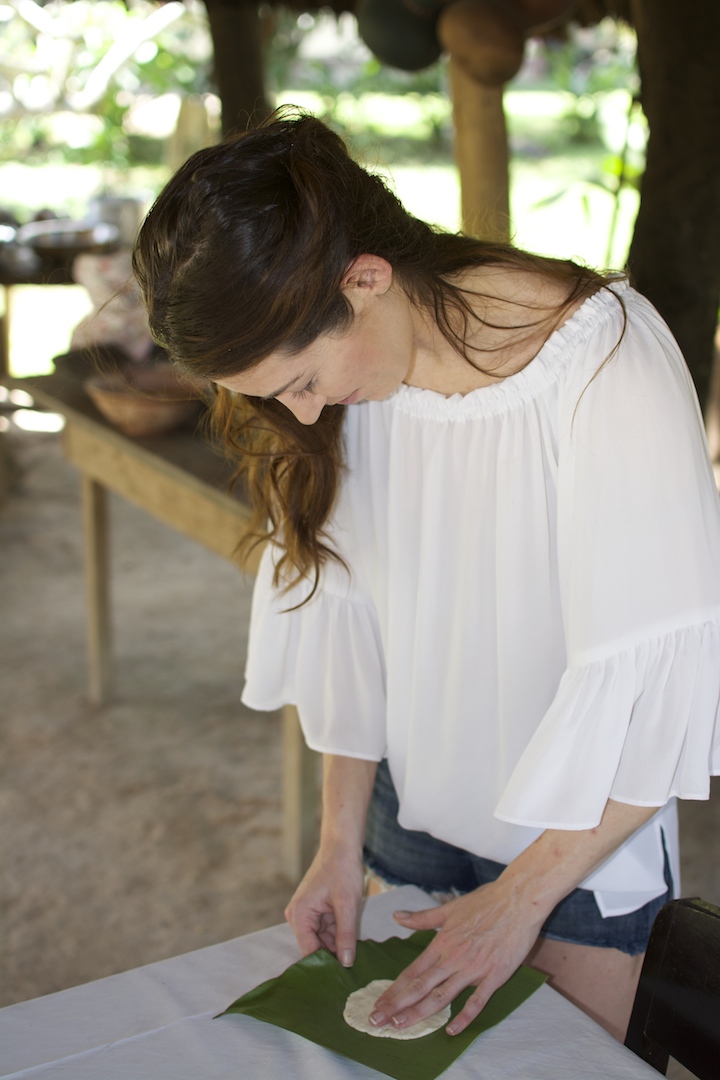 Using a metate made from basalt Josefina taught me to grind lime-treated maize to create masa. She made it look easy using just a couple of passes but when I tried the first thing I realized is the stone used for grinding is large and heavy. My thumb shook for a day after from the weight and rolling motion. It was when Josefina told me she does this for every meal I thought there is no way I will challenge her to a thumb wrestling competition.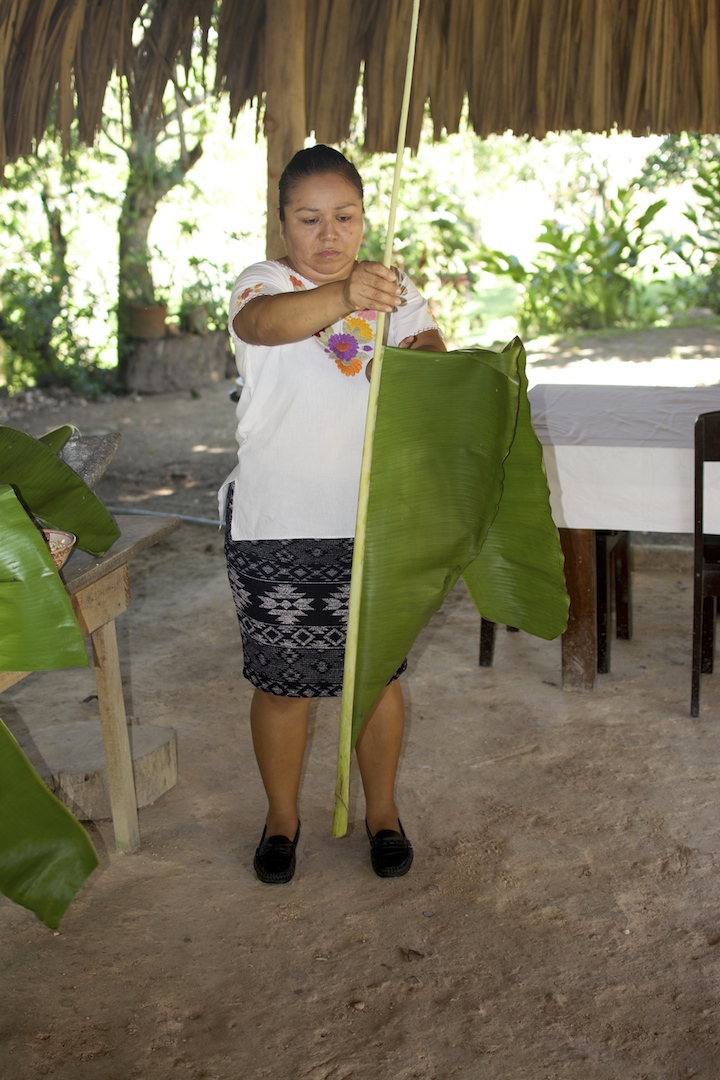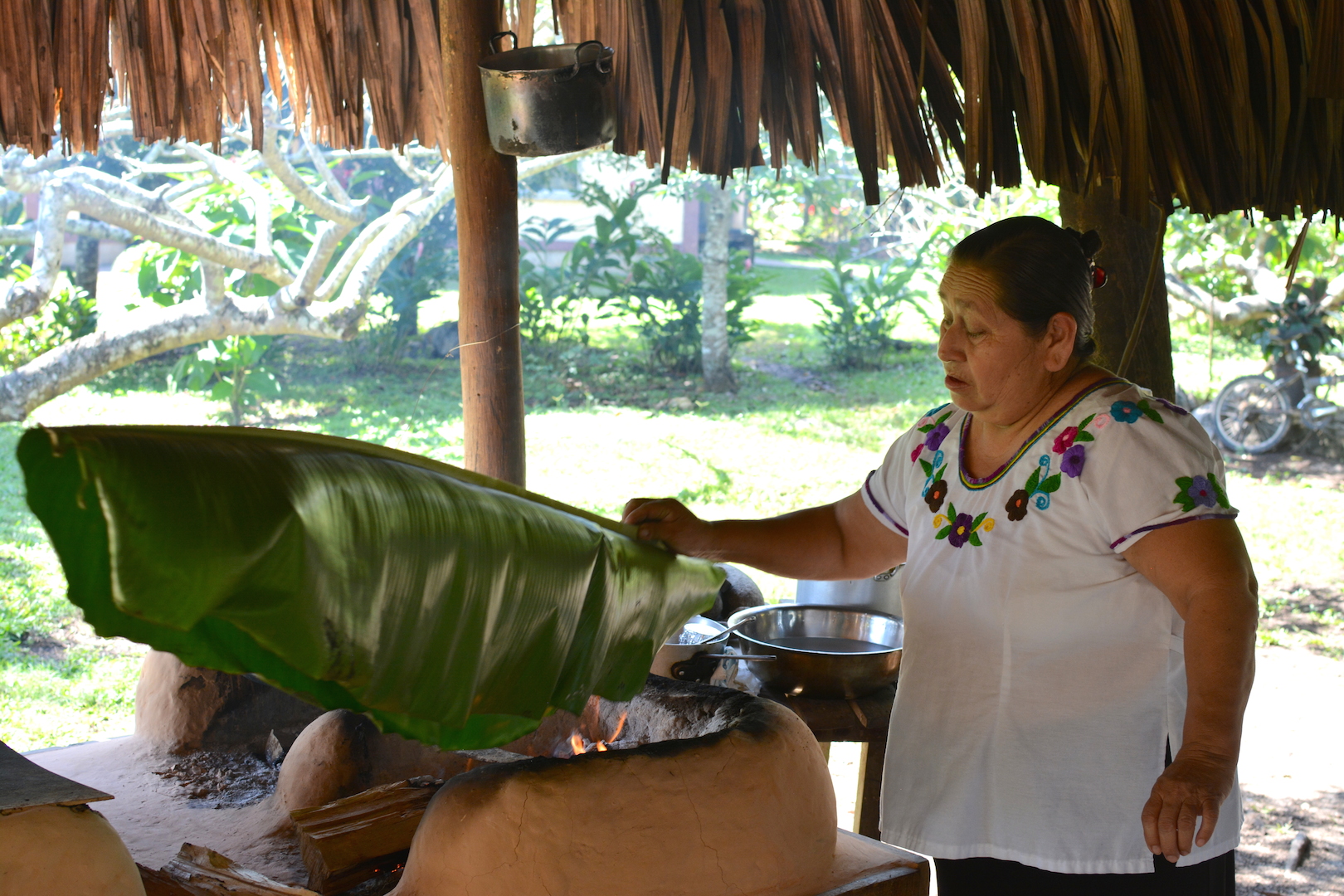 It took me 20 or so passes to get the hang of it and create enough masa for four tortillas which I discretely split into five to make it seem like I had done more than my husband. Using a palm we patted the masa into a circle and onto the fire it went. Mine started to puff up and I got really worried but Timothea assured me this was the sign of a job well done. The puffing means no air is escaping from the edges and creates a texture that is neither fluffy nor dense. A smidge of coconut oil and a quick pass with the salt rendered the most delicious, freshest, simplest tortilla I have ever eaten. All the ingredients were grown in town (with the exception of the salt) and everything used for the meals was for personal use only. None of their crops were sold.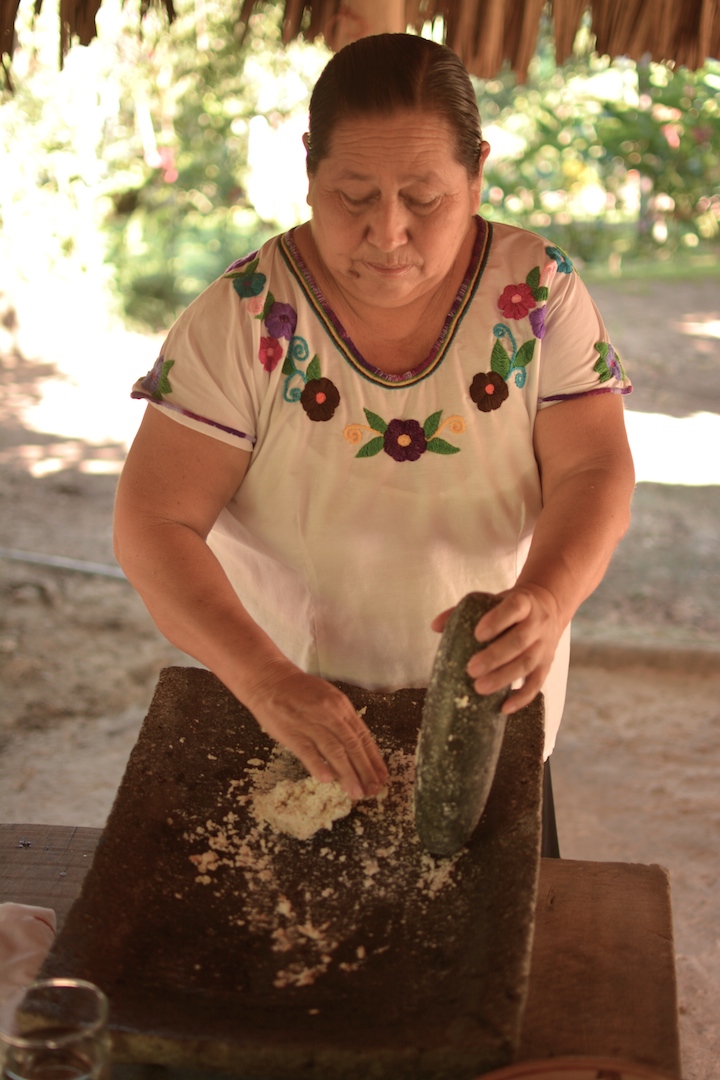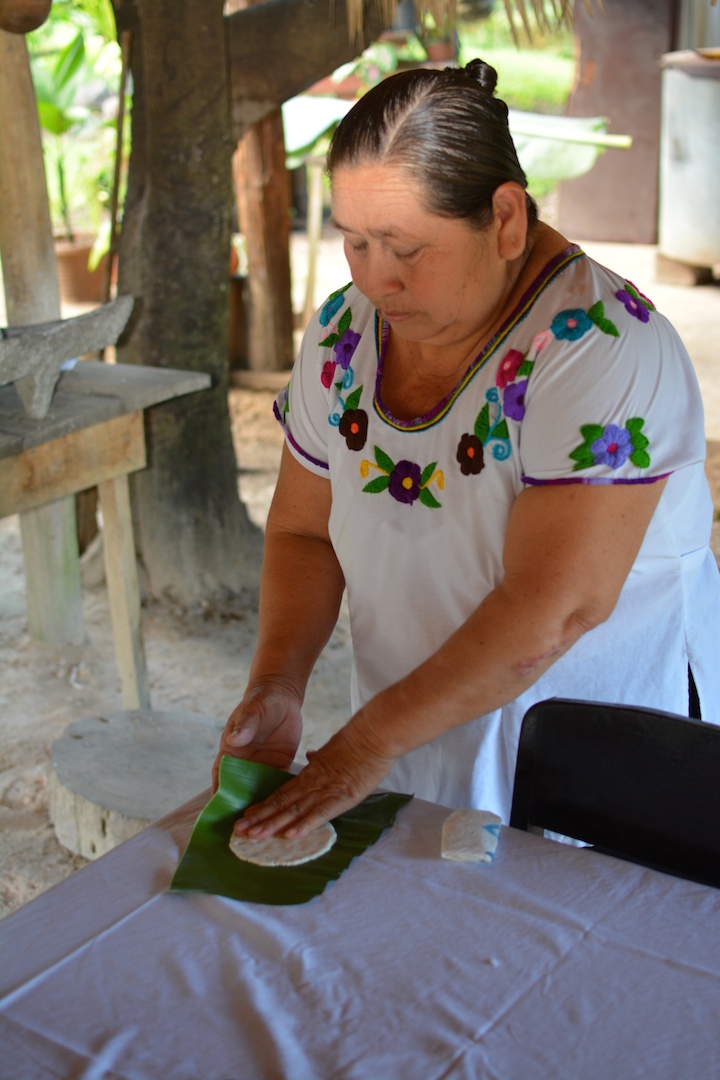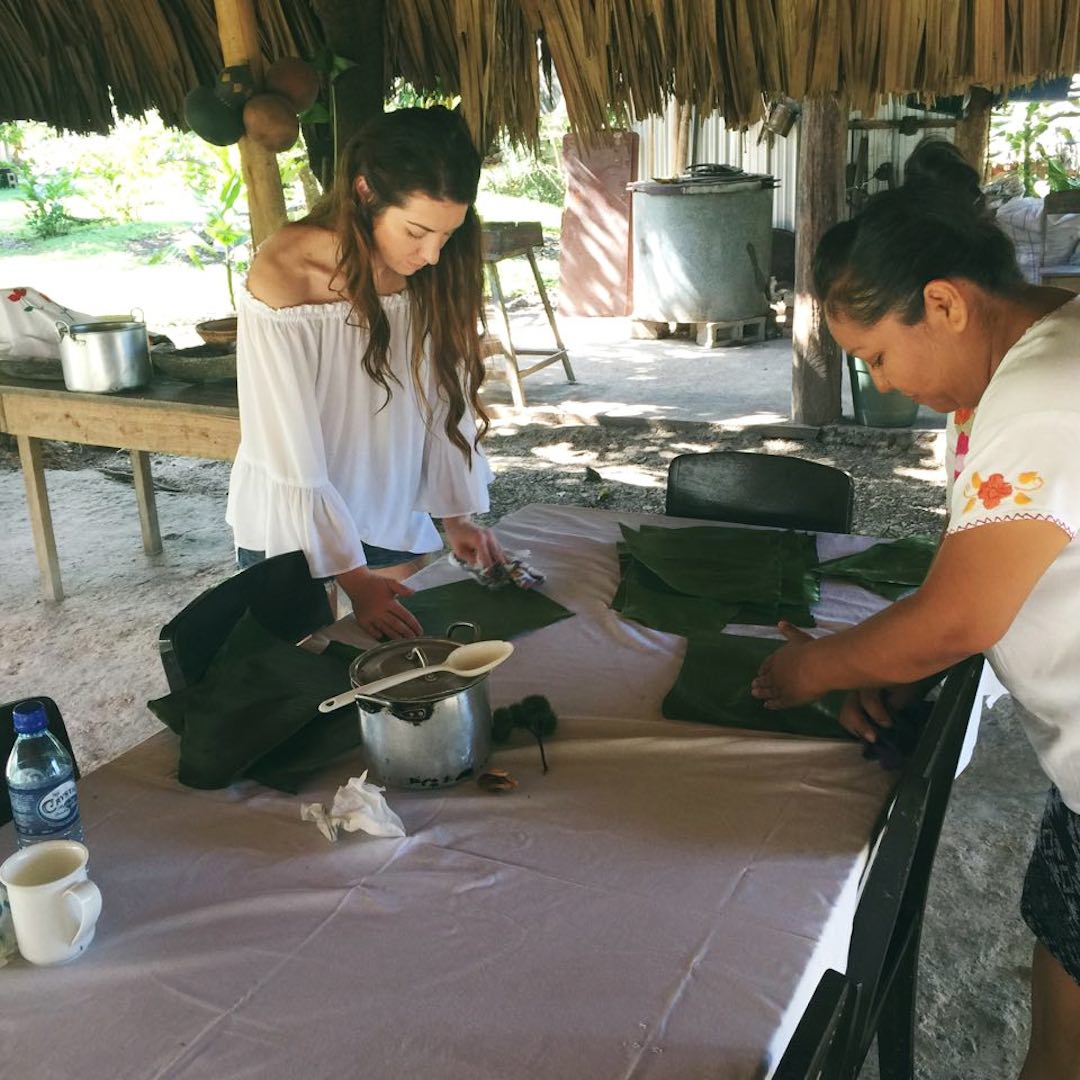 I only ate the one tortilla before we were off again, this time making tamales. (I wonder where the other four tortillas ended up? I'm thinking Josefina took the rest of the day off and had dinner all ready to be served 😉 But, let's be honest if something tasted that delicious I would keep them too!) The same masa was cooked down. We then patted them semi circular on a palm leaf, filled them with a chicken mixture, and rolled using the same palm leaf tucking the end in to secure them. The stems of the palm leaves were used as a base in the pot while a leaf was placed as a sort of mat at the bottom. The tamales were stacked in the pot and left to steam.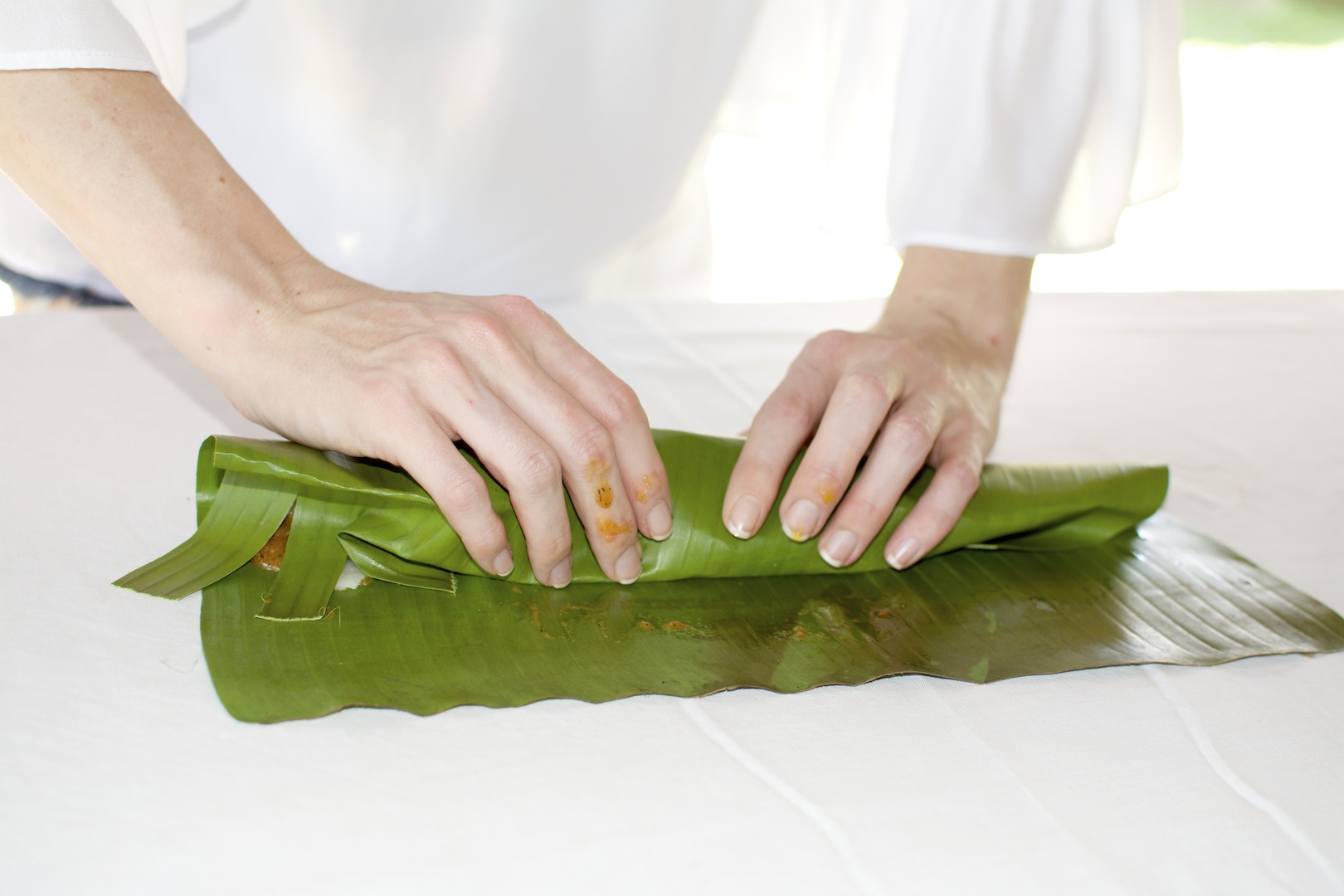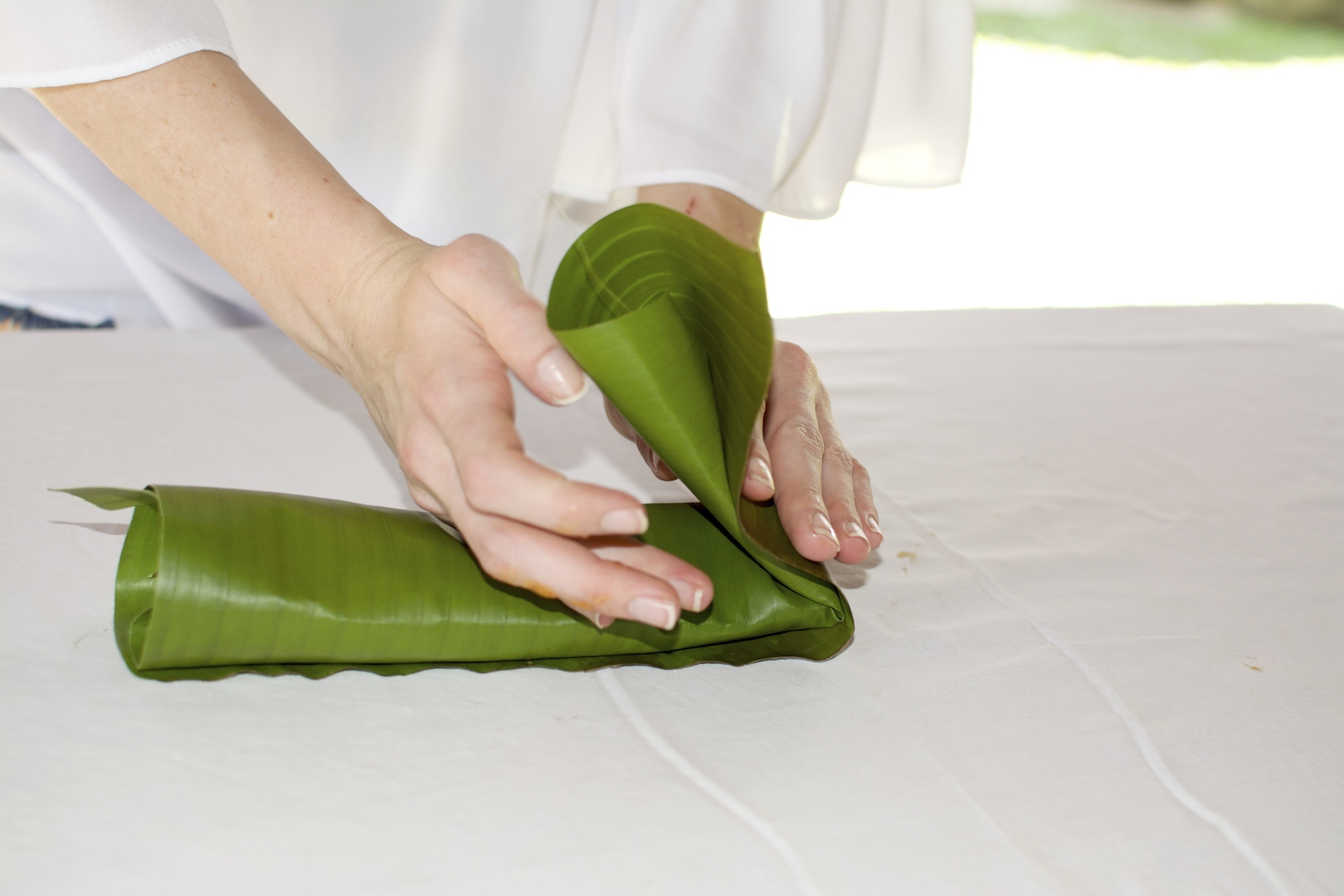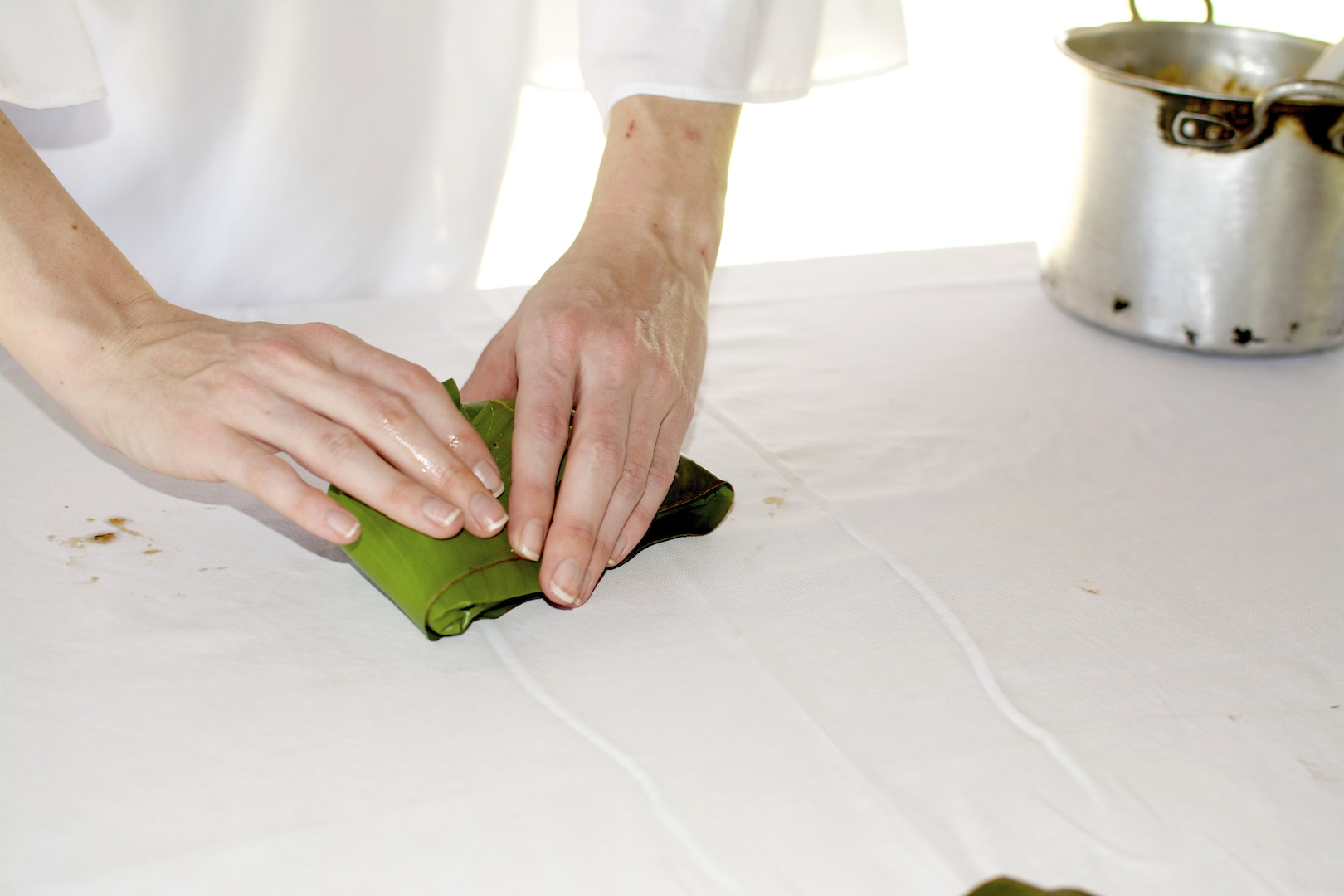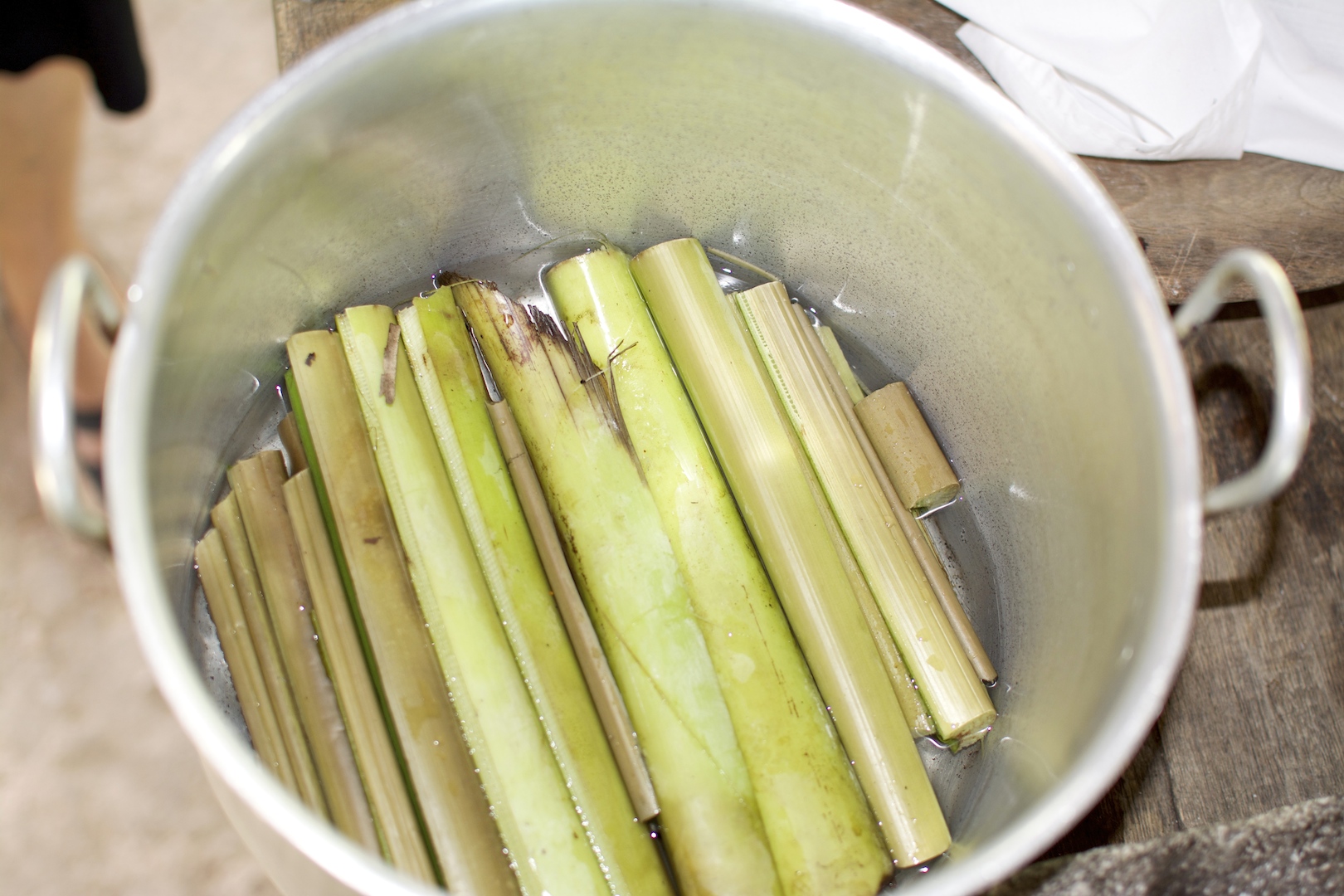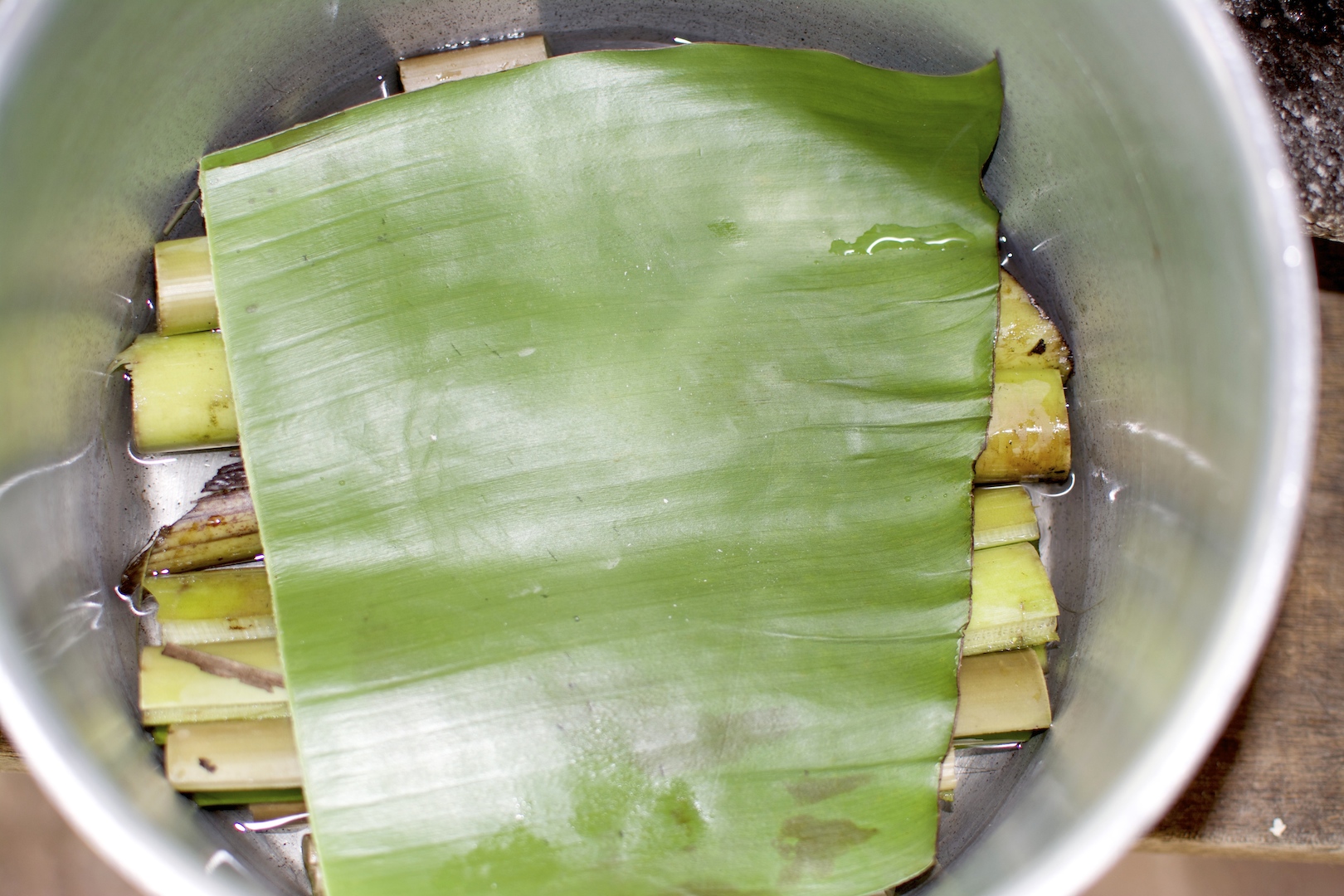 When all was finished we ended up with two tamales each paired with a freshly made salad, and topped with a homemade peanut dressing (the peanuts are also grown locally). Oh, and did I mention to wash it all down fresh squeezed orange juice? The entire experience was somewhat surreal. Sure, I was cooking my own lunch but, I was doing it using tools and techniques that have been around for centuries in an open air kitchen where the ingredients are grown in the backyard. I wouldn't have traded it for anything, well maybe, a bag of those tortillas for the ride home.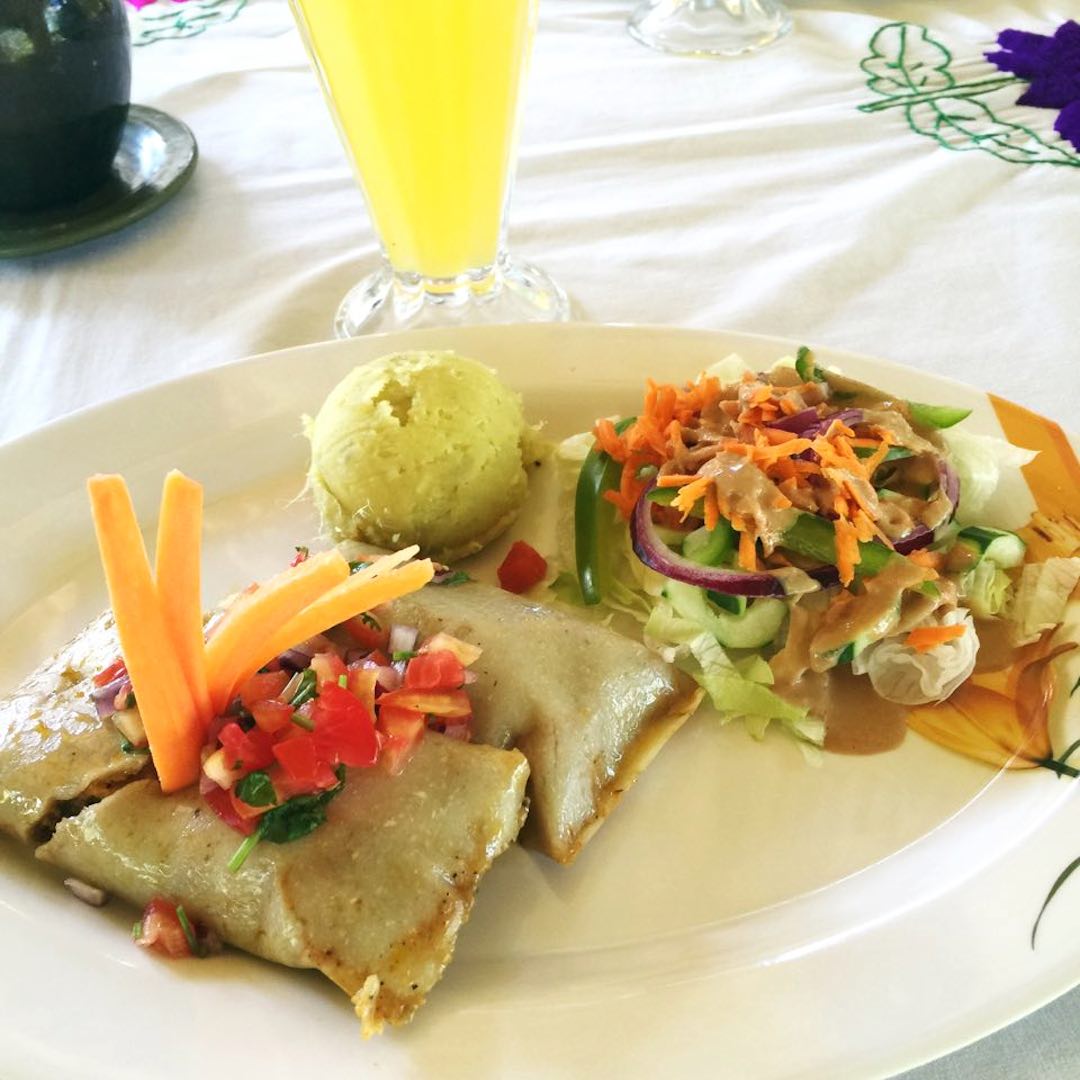 Don't let the simplicity of the town or the center fool you. The money raised by the  San Antonio Women's Group goes directly to helping their daughters go to school. Education for girls beyond middle school remains an issue in many rural towns throughout Belize. Many are kept home to take care of the household.  The Women's Center is leading the way in creating their own business by embracing their history, and turning the tide on women's education in rural Belize.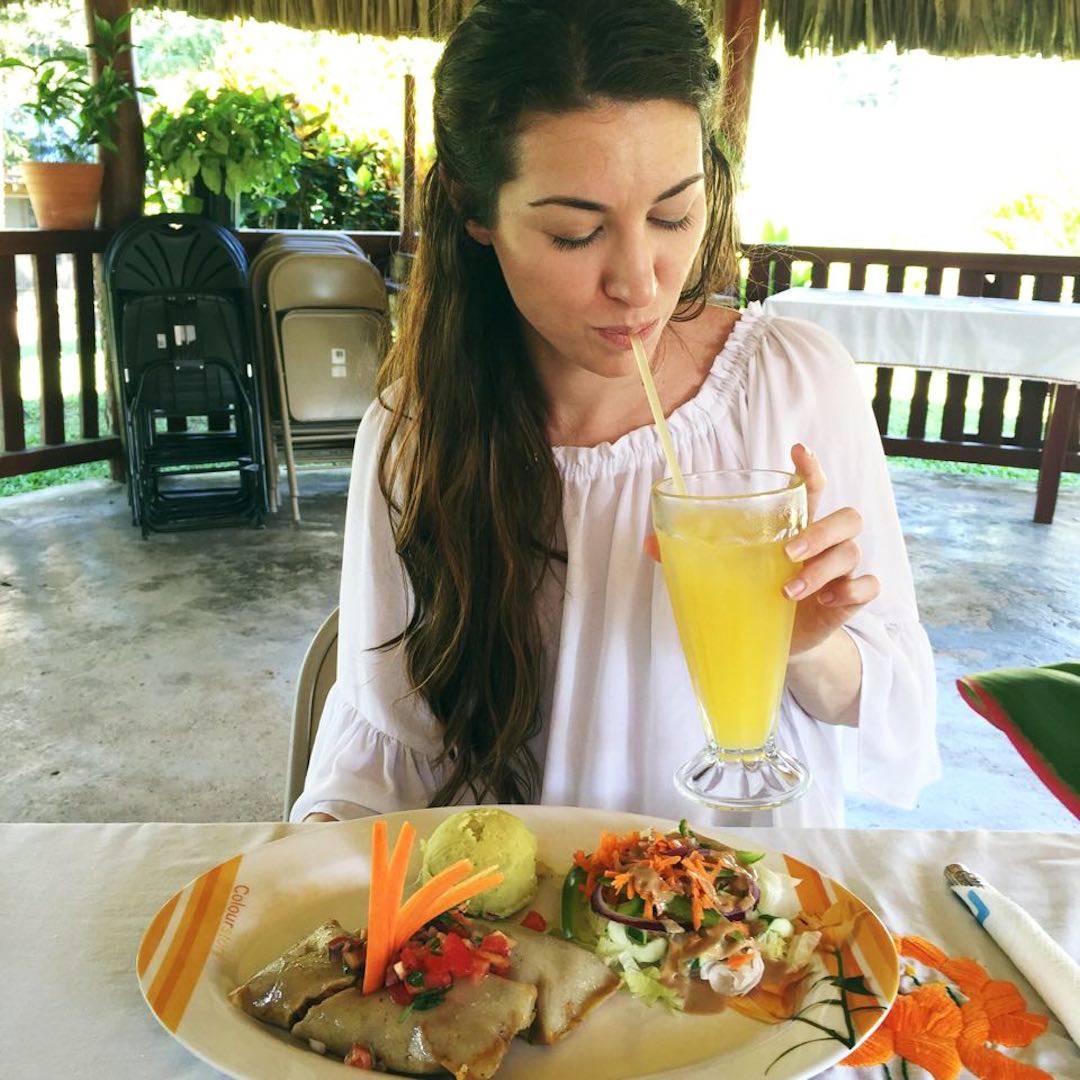 I will be posting later on the pottery tutorial and embroidery that also helps the center to flourish so make sure to check back in a couple of days.