2016 Luxury Eco Travel: Pack Your Bags
"Traveling – it leaves you speechless, then turns you into a storyteller."
Ibn Battuta
Get ready to pack your bags! These 5 Eco Hotels will have you thinking there is no other way to travel.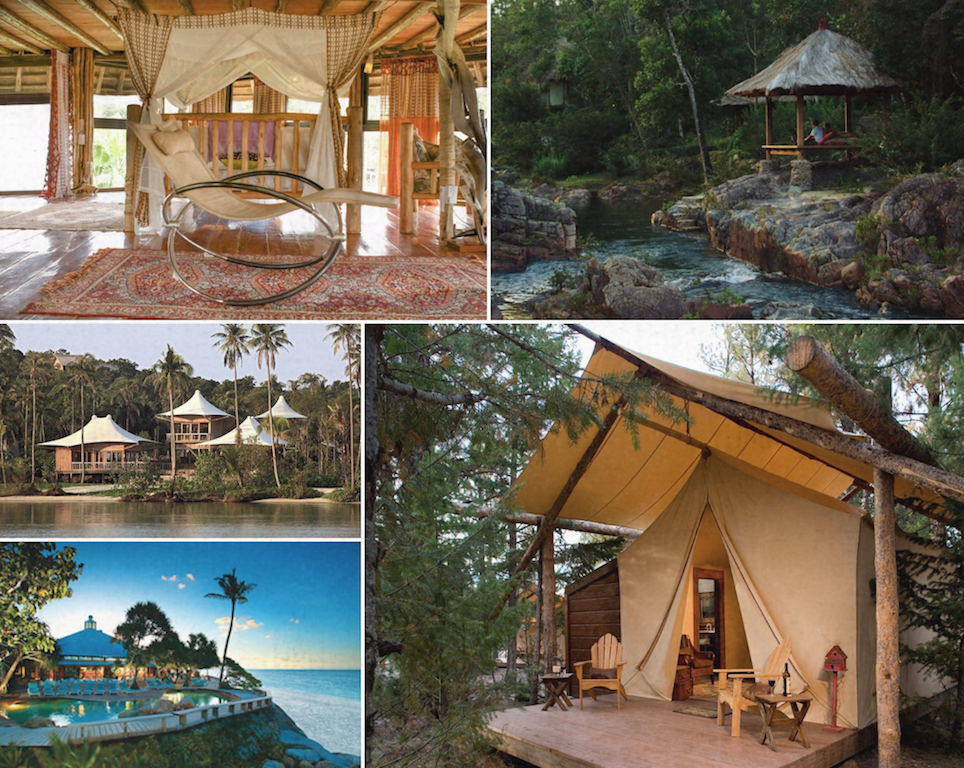 I may be a bit biased because I'm sitting in the Blancaneaux lounge writing this article. Blancaneaux Lodge is the perfect combination of luxury, seclusion, wireless disconnect, conservation, and some of the most amazing once-in-a-lifetime experiences.  Situated in the Pine Ridge Forest Reserve you are surrounded by the Belizian jungle, which is nothing short of awe-inspiring. The rooms are all equal in their luxury offerings from personal infinity pools, outdoor showers, to hammocks, and river views. Did I mention the food is somewhat mind blowing! But don't be fooled by the relaxing ambiance there is plenty of do. Check out the Mayan ruins, learn how to make authentic tortillas at the San Antonio Women's Center, venture into the jungle via boat, kayak through caves, hike to waterfalls, enjoy the sunrise on horseback… I could go on forever.
Don't let the simplicity of their website fool you; Malakai Eco Lodge is an escapists dream. From your arrival you will be attended to with the utmost importance making you feel as if you're queen of the lodge for your stay. The artistic flair throughout the property including the unique characteristics of each cottage will not disappoint. Take a swim in the pond, explore the local jungle swamps, sweat it out at the outdoor gym, watch the multitude of birds in the vicinity, and chow down on some local favorites. The one downside… you won't want to leave.
3. Heron Island Resort, Australia
Located just on the Great Barrier Reef the location speaks volumes. Heron Island not only dazzles with various activities but the environmental initiatives make this experience nothing short of unique. The island is listed as a World Heritage listed Marine National Park meaning all flora and fauna is protected. The resort goes further by running their own power generators, potable water production and wastewater treatment. These eco friendly steps have ensured that visitors are able to snorkel and dive, watch turtles hatch, enjoy guided bird walks, and enjoy private beach picnics in the most pristine environment where natural world is abundant. Don't forget to enjoy a treatment or two at Heron Island Resorts Aqua Soul Spa.
Set on a 37,000 acre working ranch don't be surprised if in addition to seeing Black Angus cows you also see a couple hundred resident Elk roaming the property. Paws Up is glamping on steroids with no lack of attention paid to eco alternatives. Indulge in the Montana wilderness with fly fishing, trail riding, cattle driving, whitewater rafting or repelling. At the end of an activity packed day head to your luxury tent and listen to the river, stare up at the glittery sky above you, or listen to some western tales by the fire. Make sure to check out their various spa and health amenities before you pack up to leave, if you can pry yourself away.
The Soneva philosophy can be summed up in two words: SLOW LIFE. What is really means is Sustainable-Local-Organic-Wellness Learning-Inspiring-Fun-Experiences and the owners aren't joking. Enjoy lunch in a tree pod, try not to gasp at the stunning architecture, and soak in all the natural beauty. If you feel like hiding in your room you won't be disappointed in your personal infinity pool and butler service. But, if you want to be more social head to the open air cinema, or chocolate and ice cream parlor, or gaze at the stars at the observatory. Before you head out take a dip in the pristine waters and hike through the untamed jungle.
I don't know about you but I'm ready to pack up and head out. But, which one first!