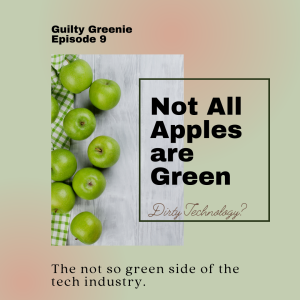 Season 1, Episode 9: Not all Apples are Green
Cait and Sarah talk all things tech which can be overwhelming , especially if you don't know your carbon footprint  from your tennis elbow.
So let's get real for a minute and focus on what we can achieve, because we want to know that the changes we are making daily are actually impacting our entire carbon footprint, not just our carbon big toe! So join us as we bare all, we'll share our own guilt, share our own journeys and just add some levity in our attempts and fails to be more eco-friendly but in the real world. 
This week's topic is riding off the back of last week's challenge that Cait issued, or rather inflicted on Sarah's house – NO STREAMING FOR A WEEK! Grade A torment for all and for Sarah, a realisation that one of her five fruit and veg a day HAS to be an APPLE! .
This may have been the toughest challenge yet. 
And as usual Cait jams the episode with the facts, tips and tools to help Sarah and you, our dear listeners, to green level up! 
JOIN THE GUILTY GREENIE CHALLENGE
COUNT THE WAYS…… do one or all!
1.Guilty Greenie is an independent podcast – (read here we don't get paid!)
please support the podcast at: buymeacoffee.com/guiltygreenie
2. SUBSCRIBE
3. Leave a 5 STAR APPLE PODCAST review 
4. SHARE on social media
5. Follow us on
Instagram @guiltygreenie 
Facebook: Guilty Greenie
FOR MORE ON CAIT:
More of Cait's work can be found at:
World Threads Traveler – Online resource inspiring consumers to make more conscious and sustainable decisions with an emphasis on alternatives to the mainstream fast fashion, beauty, lifestyle, and travel industries while also providing educational tools to help raise awareness on the climate crisis.
Climate Collab – Climate conversations podcast series that uses the power of storytelling and personal narrative to illuminate the climate crisis, inspire global change, and realize a healthy and united future.
Cait Bagby – Collection of opinion, interview, and educational articles
You can find her on Instagram
@caitbagby
@climatecollablive
@longhill.farm
Or on Twitter
Or on Pinterest
And on Youtube
FOR MORE ON SARAH:
Check out Sarah's other Award Winning podcast.
Conning the Con Podcast – Runner Up in the International Women's Podcast Awards 2021
Stop the Killing Podcast – with Cohost Katherine Schweit, Former Head of the FBI's Active Shooter Program.
And follow on Instagram
@conmunitypodcast
@conningthecon
@stopthekillingstories
@mishachowchow
Twitter