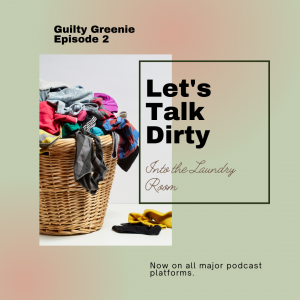 Season 1, Episode 2: Let's Talk Dirty
Cait and Sarah talk dirty this week……dirty laundry that is!
Now bare with us, laundry might not be a very sexy topic but it is often one of the first places people start on their sustainability journey.
In fact, as Cait starts to rummage through Sarah's dirty laundry she finds some green shoots of "eco-ness" already sprouting….will they thrive or be suffocated under "Mount Washmore?"
And stay tuned for Cait's challenge of the week, will it end in sunshine and rainbows or be a damp catastrophic wash out?
FOR MORE ON CAIT:
More of Cait's work can be found at:
World Threads Traveler – Online resource inspiring consumers to make more conscious and sustainable decisions with an emphasis on alternatives to the mainstream fast fashion, beauty, lifestyle, and travel industries while also providing educational tools to help raise awareness on the climate crisis.
Climate Collab – Climate conversations podcast series that uses the power of storytelling and personal narrative to illuminate the climate crisis, inspire global change, and realize a healthy and united future.
Cait Bagby – Collection of opinion, interview, and educational articles
You can find her on Instagram
@caitbagby
@climatecollablive
@longhill.farm
Or on Twitter
Or on Pinterest
And on Youtube
FOR MORE ON SARAH:
Check out Sarah's other Award Winning podcast.
Conning the Con Podcast – Runner Up in the International Women's Podcast Awards 2021
Stop the Killing Podcast – with Cohost Katherine Schweit, Former Head of the FBI's Active Shooter Program.
And follow on Instagram
@conmunitypodcast
@conningthecon
@stopthekillingstories
@mishachowchow
Twitter