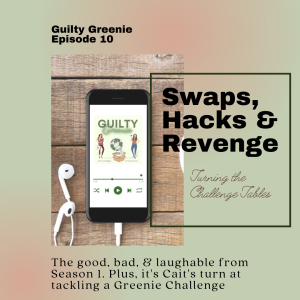 Season 1, Episode 10: Swaps, Hacks & Revenge
Sarah started this first season of Guilty Greenie with a carbon footprint that would probably make Big Foot feel inadequate. But with Cait's expertise, is it  heading towards a size behooving someone five foot, three in stature. So join us as we navigate our way through the real world whilst trying to stay consciously green. 
We're always learning something new on Guilty Greenie, including Sarah's height! Perfect way to wrap up the season. 
And after nine episodes of Sarah and her family enduring Cait's somewhat sadistic in nature, 'nature' challenges – Sarah serves up a dish of revenge! A dish best served cold ……and with zero waste! 
MAKE SURE TO SUBSCRIBE AND BE THE FIRST TO HEAR SEASON TWO EPISODES
JOIN THE GUILTY GREENIE CHALLENGE
COUNT THE WAYS…… do one or all!
1.Guilty Greenie is an independent podcast – (read here we don't get paid!)
please support the podcast at :buymeacoffee.com/guiltygreenie
2. SUBSCRIBE
3. Leave a 5 STAR APPLE PODCAST review 
4. SHARE on social media
5. Follow us on
Instagram @guiltygreenie 
Facebook: Guilty Greenie
FOR MORE ON CAIT:
More of Cait's work can be found at:
World Threads Traveler – Online resource inspiring consumers to make more conscious and sustainable decisions with an emphasis on alternatives to the mainstream fast fashion, beauty, lifestyle, and travel industries while also providing educational tools to help raise awareness on the climate crisis.
Climate Collab – Climate conversations podcast series that uses the power of storytelling and personal narrative to illuminate the climate crisis, inspire global change, and realize a healthy and united future.
Cait Bagby – Collection of opinion, interview, and educational articles
You can find her on Instagram
@caitbagby
@climatecollablive
@longhill.farm
Or on Twitter
Or on Pinterest
And on Youtube
FOR MORE ON SARAH:
Check out Sarah's other Award Winning podcast.
Conning the Con Podcast – Runner Up in the International Women's Podcast Awards 2021
Stop the Killing Podcast – with Cohost Katherine Schweit, Former Head of the FBI's Active Shooter Program.
And follow on Instagram
@conmunitypodcast
@conningthecon
@stopthekillingstories
@mishachowchow
Twitter