When trying to minimize your footprint small steps are the key to success. Minimal waste dental swaps are a great way to sink your teeth into it. 
Minimal Waste Dental Care Swaps
Organic Bamboo Floss: Bamboo is used for just about everything these days and for good reason. It's incredibly versatile and if manufactured in a closed loop system incredibly eco friendly. Lucky Teeth manufactures this organic bamboo floss which is charcoal activated and contains peppermint and tea tree essential oils. Meaning, not only will your teeth feel incredibly clean but the essential oils act as antiviral and antibacterial agents while also providing soothing relief to your gums. Not to mention the recyclable glass jar while offering a great minimal waste dental care swap also looks a whole lot better sitting on your vanity than the traditional plastic packaging. The real benefit? Each glass jar is refillable meaning you don't need to buy new packaging every time and the floss is completely biodegradable. 
Natural Bamboo Toothbrush: There are three reasons I love bamboo toothbrushes and why they make the minimal waste dental care waste. First, they cut down on waste. The handles are made of bamboo while the bristles from BPA free nylon bristles. While not completely zero waste they help to eliminate most of the waste produced from traditional plastic handled toothbrushes. Secondly, they are perfect for using activated charcoal. One of the drawbacks of activated charcoal is that it can stain your toothbrush. Having two isn't a bad thing - one for activated charcoal and another for getting a clean brush afterwards. Thirdly, they are great for when guests stay over and forget their brushes. Each brush is conveniently numbered so there is no worry about whose is whose. 
Activated Charcoal: Activated Charcoal has been a staple in my bathroom for quite some time now. We are a culture obsessed with pearly whites. I am no exception to these vain desires however, instead of using synthetic chemicals or plastic sheets to get the desired shade I opt for Activated Charcoal.  There is no bleach added to the coconut derived formula which helps to lift stains such as red wine, nicotine, or coffee-stains. I recommend using once a day to keep your teeth healthy and shiny.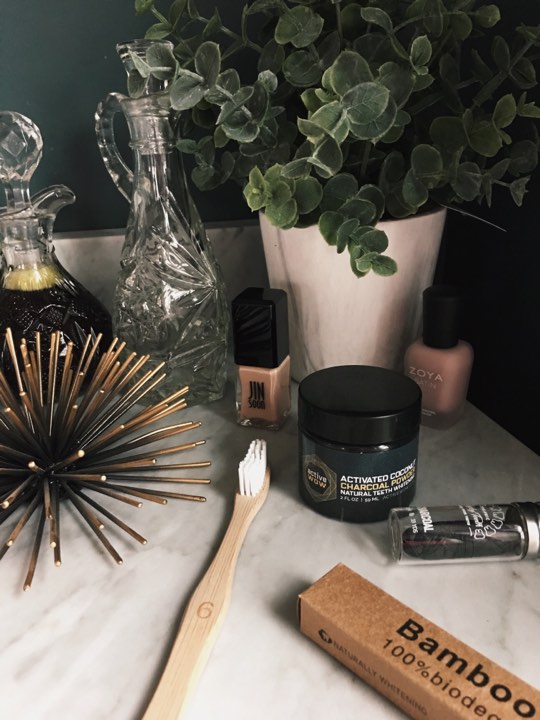 There are a couple of other things I keep on my vanity including Zoya and Jin Soon Nail Polish. This spring I've gone back to the basics with nail color. A natural or light pink is clean, simple, and perfectly polished. 
Additionally I keep organic, cold-pressed, hemp seed oil for taking of my makeup. I am a huge fan of the double cleanse method and hemp seed oil is perfect for the first step oil cleanse. It is non-comedogenic and pact full of Omega 3s. Unfortunately, I haven't found a minimal waste original packaging solution but once it arrives I prefer to keep it in a crystal oil bottle I picked up at a local vintage shop. 
*This post contains affiliated links, which means I receive compensation if you make a purchase using some links. This does not add to your cost of the product purchased.