For a little over a year and a half now I have been in the process of making the switch over to clean beauty products. Products that aren't harmful to myself or the environment. I was not and am still not prepared for the level of frustration making the switch has entailed. While most the time I love being the guinea pig for all my readers, I have reached the ultimate frustration point, specifically with one product, that I just can't seem to find - non toxic perfume.
It's true, in the past I have recommended plenty of non toxic perfumes. I have either personally tested them or dug through mountains of reviews and chemical makeup data to determine which brands are the best. But here's my problem when it comes to non toxic perfumes: their staying power, accessibility, and overall fragrance profiles.
About three months ago I got the idea in my head that I was going to start making my own perfumes (frustration can actually lead to some pretty incredible things) so I started researching. I learned about fragrance notes: top, middle, and base - how they should be weighted, what fragrances made for the best combinations and so on. I learned about how fragrances are either extracted from natural products such as roses and vanilla or produced synthetically. And finally how they are mixed to hold their smell depending on your base - oil, water, or alcohol. All very fascinating stuff and I would highly recommend checking out Essence and Alchemy: A Book of Perfume if you want to learn more about the process and history. Overall this doesn't sound all too terrifying to put on your skin but the reality in the perfume world is a heavy dose of synthetics and stabilizers which give mainstream perfumes their gorgeous, seductive smells but also lead to some pretty nasty chemical ingestion. Thanks but no thanks.
So what's the problem with natural perfumes? Absolutely nothing when it comes to their chemical compositions but I haven't been able to find one that I truly enjoy the smell of and/or that stay longer than an hour or two on my skin. I don't want to smell like straight cedar wood or a vanilla bean. You can call it whatever fancy name you want such as Tropical Vacation but the simplicity of smelling like a coconut just isn't doing it for me. The complexity of those top, middle, and base notes just isn't there - at least not that I can find.
Hold on though - you might say there are natural perfume companies out there that offer complex fragrances with staying power and you would be right. This is not a unicorn. I know they exist but accessibility is a problem plaguing the sustainable industry across several platforms. Unlike traditional perfumes I can't walk into my nearest department store and give them a try. I have to take the gamble after reading the descriptions online and pay a pretty penny for something I might never like. Thanks but no thanks. I don't know about you but I don't have money to just throw away on a trial when I have perfectly good perfumes (horribly toxic as they may be) already in my house.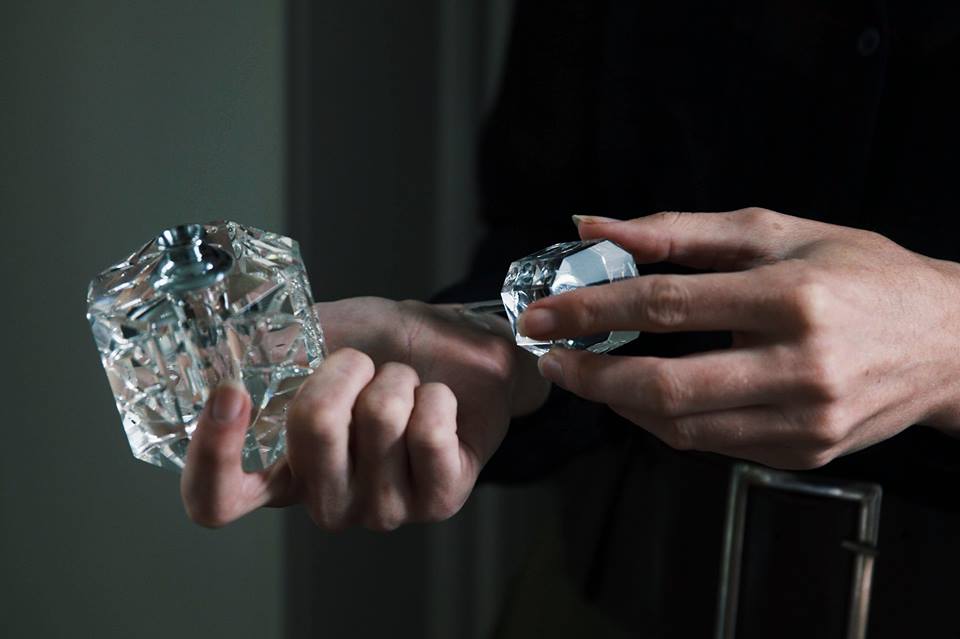 What's the point of posting about non toxic perfumes if I have no more suggestions?
I don't really know to be honest. Maybe just to tell you that turning your vanity into a clean, green space can and will be frustrating. That you will hit snags along the road and throw up your hands wanting to tear out your hair. Maybe just to let you know you're not alone and if you tell me "you can pry my Chanel perfume or lipstick or foundation out of my cold dead hands" I get it. Oh really, I get it more than you know! Sustainability isn't about perfection. It isn't about going for it 100% of the time. It's about being human and realizing it's not a goal but a lifestyle of choosing to be a little bit better each day. It's not an all or nothing attitude.
The one thing that I think social media has done is to make it appear as if finding the perfect product be is perfume, culottes, a chunky knit sweater, or perfect shade of red lipstick is easy. But it's not. I know what does and does not work for me and I love sharing that advice with each and everyone of you but it's a game of trial and error - like I mentioned I don't mind being the guinea pig. But know you are not alone in your frustration and that's perfectly, imperfectly okay!
So back to the natural perfume hunt while I sit here perfectly happy, imperfectly pursuing the goals of sustainability while wearing my Dolce and Gabbana perfume.