These are 10 Sustainable Spring Fashion Trends we can truly get behind. 
Vintage Florals
Florals and spring go hand and hand so it's no surprise to see them on runways again this season. But what's different is the print. Out with the bold large florals and in with the more muted patterns of the 1950's. Thanks to companies like Reformation this Sustainable Spring Trend means you can enjoy it while not supporting the production of new textiles. Check out the companies several floral print dresses, like the Persimmon, made from deadstock fabrics. If you really want to embrace the 1950's floral trend head to your local thrift store. 
Innovative Materials
By now you may have heard of Pinatex (fiber made from pineapple leaves) shoes and bags but get ready for some innovative materials that are really pushing the future of fashion to new extremes. Mushroom textiles, apple leathers, kombucha leather, lab brewed collagen leather, coconut husk threads, or even banana stem fabrics. These textiles are helping to clean up what is otherwise waste byproducts of the agricultural industry while others are lab grown and help answer the question of how to reduce environmental impact.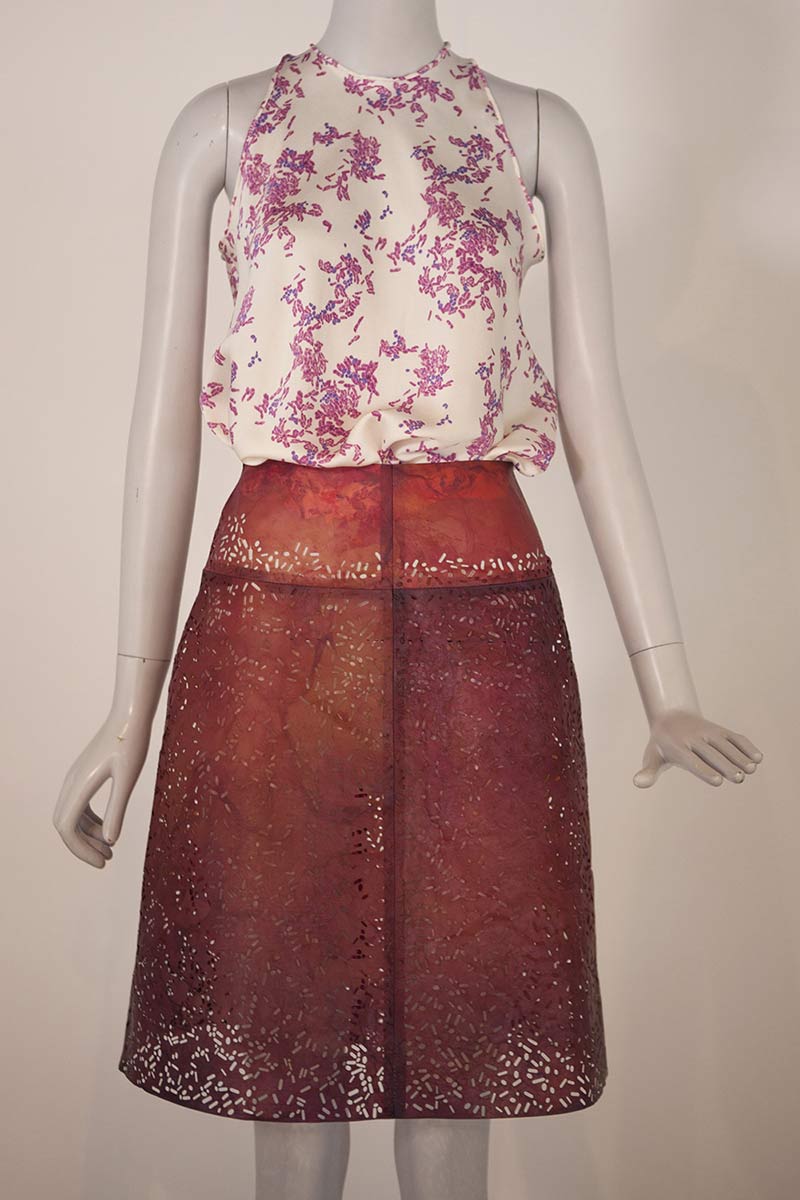 The Heels Have It
Kitten heels are making a bit comeback this season but the overall trend is to draw attention towards your feet. From metallics, to velvets, to bold prints let your heels steal the show. 
Wrapped in Plastic
Plastic was all over the runway this season and that's well...you know my feelings on using plastic, but there are companies out there that give traditional high fashion brands a run for their money. Vin & Omi have developed 11 eco-fibers including leathers made from chestnut skins and wools manufactured from recycled plastic bottles like this pink dream of a coat. 
Raw Fibers
Raw fibers and raw hems were this years refreshing answer to the expected pastels and florals of every spring. It's almost as if the fashion industry is nodding it's approval to the traditional branding of sustainable fashion. Whatever the reason we're on board. Eileen Fisher hold strong on this front with her commitment to using organic fibers and low impact dyes. 
Waist Not, Want Not
Waist belts aren't going away anytime soon. And, as someone who has given this trend a try I can honestly say I love it. You don't have to look like a dowdy tourist with so many modern options available. Not sure if this trend is for you but want to give it a try? Head over to Ebay to check out some thrifted options at a fraction of the original price. 
Bold Pastels
Pastels aren't taking a backseat this spring. Swap out the traditional pinks, yellows, and blues for more refreshing tones like green and purples. Go bold with stripes, prints and head-to-toe monotone.  
Denim Dreams
Denim never goes out of style or out of season. The only question is what cut, color, finish and how much? This spring is all about the darker shades and classic finishes. Good-bye ripped and destressed and in with the polished finishes. Give Everlane's new denim line a try. 
Geometric Jewelry
Geometric jewels are back in a big way. The good news is for those not wanting to go bold there are plenty of delicate options available from rings, to earrings, to necklaces, and cuffs. Personally we're a big fan of Artisan and Fox , a marketplace to find extraordinary ethically crafted artisan pieces. 
Vintage Visions
This is one trend we can all get behind. Thrifting is on the rise and vintage isn't going away anytime soon. This means the pieces you'll be adding to your wardrobe will surpass any seasonal trend and leave you stylish throughout the year. Looking for some vintage designer pieces? Head on over to Vestiaire Collective.


*This post contains affiliated links, which means I receive compensation if you make a purchase using some links. This does not add to your cost of the product purchased.