Until a year ago I didn't shop sustainably. Eco fashion never even crossed my mind. I had been programmed, like many of us, to shop constantly at the lowest price, for as many in style options as possible. Sustainable didn't register as I scanned through rack after rack at traditional fast fashion retailers. Today, this consumer shift and bombardment of advertising telling us "we are missing out" by not buying, has led to two realizations in my life and one question: it is ever okay to buy fast fashion?
1. My closet is overfilling with items that are deemed irresponsible and non-eco-friendly. I am not ashamed of this fact. As time passes we grow as individuals. We learn from the past and hopefully move forward in a more progressive direction. I know I certainly am not the same person I was two years ago. But, I won't throw out the items in my closet simply because they remind me of bad choices I once made. (You can read about the impact of clothing donations here.) Instead, I continue to wear them with the understanding that each wear breaks the fast fashion cycle: constantly buying new while disregarding the old.
I wear my overstuffed closet with pride because each time I wear an item from a season ago or maybe a couple years ago, I am proving that even fast fashion doesn't have to be fleeting. It is all in how we treat and value the items we buy. It is what you make of it. And, if I choose to wear an item year after year, then is it any longer considered fast fashion? Or just a questionable retailer? Am I breaking the cycle just by re-wearing and buying less? (I will have to get back to you on this thought.)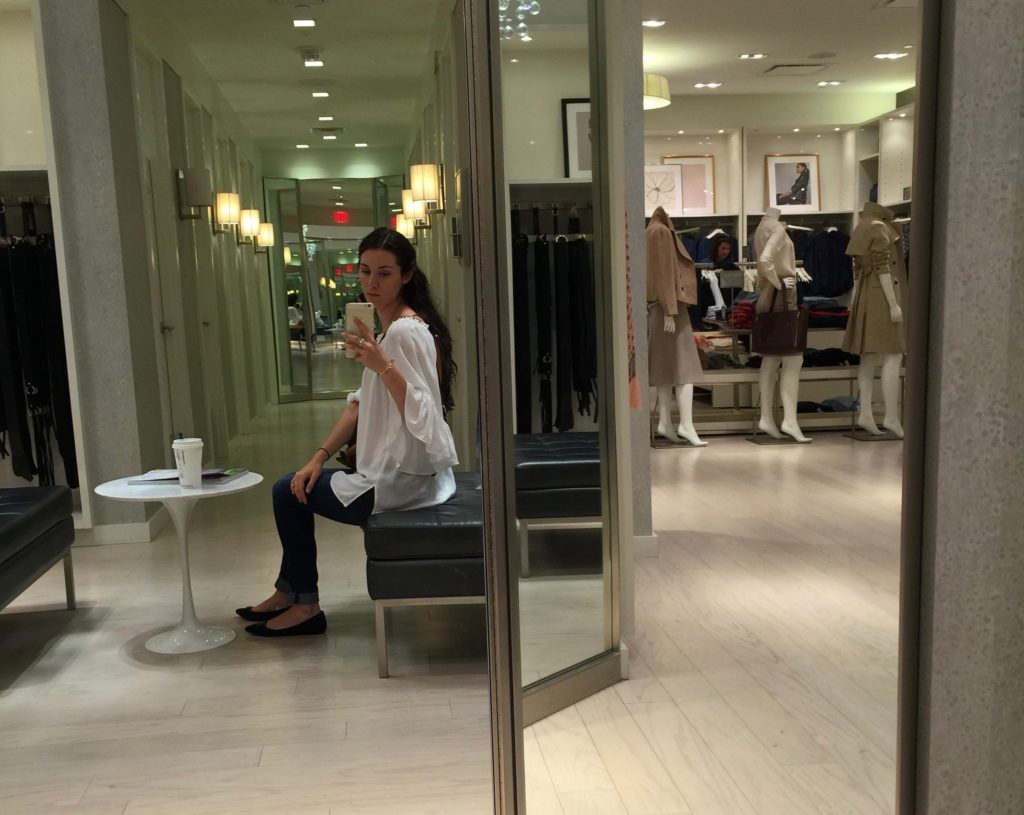 2. This brings me to my second point and main reason for this post. (Sorry for the rambling!) The other day I broke out a gorgeous pair of Miu Miu sneakers. With metallic silver tips and grey leather body, I couldn't resist them the second I first spotted them. I have worn them for a year and a half now, through every season, and with every outfit imaginable. So why don't I photograph them? With each wear I feel a lit bit guiltier. I have often put them back on my shelf knowing that if I take a picture of them and promote them on social media or WTT, I would be supporting fast fashion. But am I really? I have to wonder if putting them back on the closet shelf is doing more damage than if I were to just wear them.
So is it ever okay to buy fast fashion?
I still covet some fast fashion items and I have to wonder is it ever okay to buy fast fashion? For me, these guilty dreams come mostly in the form of high end designers. What attracts me to designer goods (which is where my fashion obsession and WTT started) is its ability to transform the wearer, to convey fantasy, the absurd, the unimaginable. Designer fashion often breaks the barrier between what is reality and what is dreamable. I bought this pair of Miu Miu sneakers because they didn't make sense. I didn't want them too. They are art. I look at high end fashion like abstract art. Either you love it, or you hate it. For me, it's mostly love but that doesn't mean I can afford to buy it, nor should I. Not every painting will look good in your home.
So it is ever okay to buy fast fashion? Or items that questionably fall on the sustainable fashion scale? For me I have come to terms with, yes! It is okay to give in every once in a while so long as it is not habit. If your closet is full of fast fashion items wear them with pride knowing that you are a changed person and breaking the consumer pattern moving forward. If there is an item that is calling your name on a department store shelf take some time to consider your potential purchase. Don't abandon the principles that led you to eco fashion in the first place. What means the most to you? Is it labor conditions? Is it ecological impact? Animal rights? Is it made locally? Identify what means the most to you and weight it against your potential purchase. If you still feel comfortable with your decision go for it. But do so modestly and infrequently. Don't feel guilty. We all give in to temptation from time to time. That is not what defines us. What defines us are the lessons learned and how we move forward. For me this means wearing my Miu Miu sneakers with ease of mind.
P.S. Chances are these sneakers were made in China (approximately 20% of Prada shoes are) but Rank-A-Brand gives Miu Miu and its parent company Prada an E-Rating because there is extremely limited information available about their manufacturing operations including location.
P.P.S. Because, I am starting to unpack my entire closet, and as you now know I have an obscene amount of un-ethical clothing, I will always try to post the eco alternative that is currently available for purchase. If it isn't sustainable and I can't find an alternative – I won't provide a link.