Before you start to wonder why an eco-fashion blogger wouldn't be into thrift shopping let me explain. Today, I had two choices. I wanted to pick up a few items of clothing for a trip I'm taking to Missouri this weekend.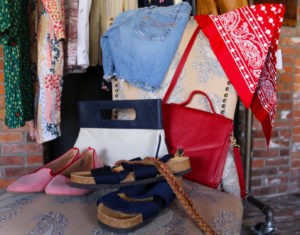 Option one was to drive an hour into Boston to visit some of my favorite eco shops. I would find a couple of items and pay a lot of money.
Option two was drive 30 minutes to a rather large chain thrift store, hopefully find some key items, and spend way less.
I chose option two.
Now, I have never been a fulltime thrifter. I may go thrift shopping once or twice a year, if that and it's when I'm looking for something specific like a designer bag that I would never buy "off the rack". No matter how eco you become you are never impervious to the multi-billion-dollar advertising behind designer labels. There are some things I still covet.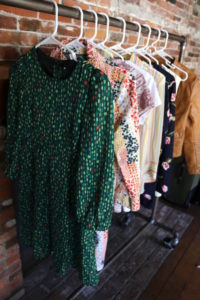 Here were my thoughts while I rummaged through aisle after aisle of discount fast fashion.
"This is amazing."
"So many options."
"I can't believe I'm trying this on. I would never buy this at the store."
"I wonder how marked down this is?"
"This still has the original tags on it."
"There is nothing good in my size. I can try to make it fit."
"I guess I'll try this on too."
"Ooo that's really cute."
"Why do they limit the dressing room to 6 items."
"Who only tries 6 items?"
"How did I end up with so many items."
"Well they don't cost much so I'll take them all."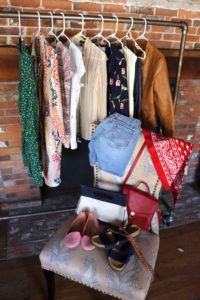 In the end I purchased a lot! I thought this would make me feel good but it did the exact opposite. I ended up with clothing from H&M, Ann Taylor, Ralph Lauren, Express along with many other name brands. It was exactly the type of clothing I have been staying away from for almost a year. There was an overwhelming sense of guilt. Why did I need so much? I had proved to myself over the last year that I didn't need or even want that much clothing. I was just buying it because I felt lost. I didn't know what to pack for my trip so I bought everything I thought "might" work. In the end I'll probably fall back to my favorite basics that have stood the test of time, not just an afternoon splurge.
Clearly this is an impulse problem with me but it is also indicative of the fast fashion culture we have become so accustom to. Low prices mean we don't mind the cheap quality and the possibility that we may wear it only once, if at all. The original tag on a pair of jeans I bought tell an even sadder story: we don't even need to return it. It wasn't worth the time to recuperate what little was spent on them. We are literally throwing away money.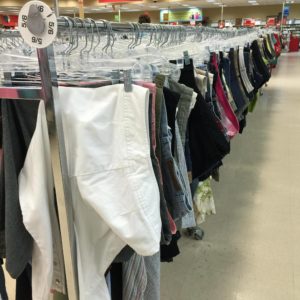 But what is wrong with donating gently used clothing to thrift stores especially when it goes to helping those who may not be able to afford otherwise? The problem lies in the vast volumes of donations. A warehouse full of racks may seem like an overwhelming amount but it is only a small fraction of what we donate every day. Only about 20 percent of what is donated ever makes it to these racks. The rest is sorted, bundled together, and often shipped to other countries where it is resold often tanking the local textile economy. Our habits of buying cheap fast fashion and disposing of it at an alarming rate is not only killing foreign economies but it hits closer to home than we can imagine. The goods that are too damaged, not re-sellable, or simply just too much for the system, end up in landfills. And as I wrote about in "What is Sustainable Fashion" many of these new textiles cannot breakdown easily or are so laden with chemicals we are polluting our environment at a monumental rate.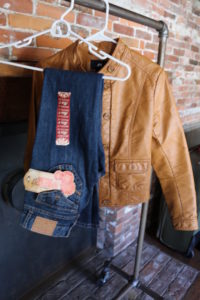 In the end, the reason I don't like thrift shopping is it continues to validate the impulse to buy massive amounts of clothing at cheap prices. It will inevitably end up back in a landfill polluting our home or killing the economy in a country few of us will ever visit. (Side Note: This may be a contributing factor to a larger migrant crisis for those in search of meaningful employment. We as a fast fashion culture are denying local enterprises by buying, wearing, and disposing of massive amounts of clothing.) It demonstrates that it is okay to wear an item once or twice because in the end you can donate it.
What happened to buying quality clothing that would last a lifetime or could be repaired and re-worn? This is the practice and economy I want to encourage. I will continue to thrift shopping once or twice a year for specialty items but I will not encourage fast fashion culture by buying cheap, disposable clothing in bulk no matter what store it comes from. I will not tell you it is okay to donate such volume. If you find yourself donating in bulk, there is a problem. Instead opt for pieces that will outlive you. Enduring quality and timeless style are the true unsung heroes of eco fashion.